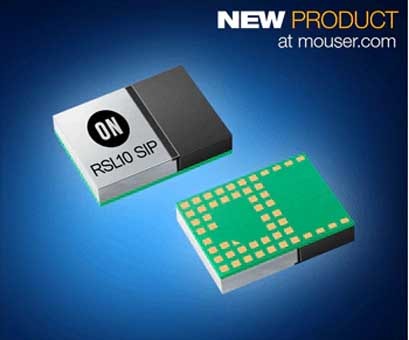 November 15, 2018 – Mouser Electronics is now stocking the RSL10 multi-protocol system-in-package (SiP) from ON Semiconductor. With ultra-low-power wireless connectivity to meet the needs of a broad range of connected applications, the versatile Bluetooth 5-certified SiP includes support for a 2 Mbit per second (Mbps) RF link as well as 2.4 GHz proprietary or custom protocols.
The ON Semiconductor RSL10 SiP, available from Mouser Electronics, features a 48 MHz Arm®Cortex®-M3 processor bolstered by a 32-bit dual-Harvard DSP core that supports intensive signal processing applications. Including both flash and RAM, the device's diverse memory architecture enables storage of the Bluetooth stack, as well as other applications. The highly integrated RSL10 SiP includes a DMA controller, oscillators, and high-efficiency power management units, and supports a supply voltage range of 1.1 to 3.3 V.
The SiP is supported by the RSL10 SiP Evaluation Board, which provides access to all input and output connections through standard 0.1-inch headers. Additionally, the evaluation board offers an onboard communication interface circuit and a J-Link solution to enable users to debug the board through a USB/PC connection.
ON Semiconductor's RSL10 SiP is designed to bring ultra-low-power connectivity to Internet of Things (IoT) devices, high-performance wearables, fitness trackers, smart locks, and appliances.
To learn more, visit www.mouser.com/onsemi-rsl10-sip.