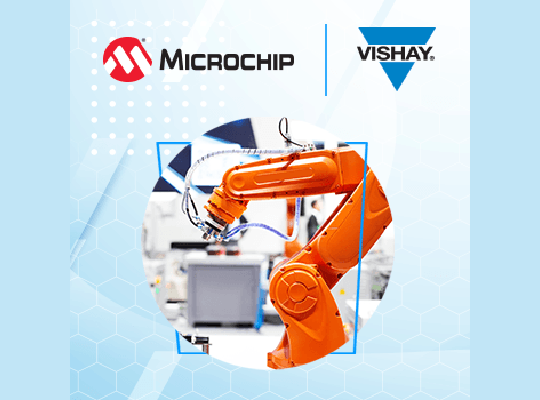 July 22, 2020 – Mouser Electronics, Inc., the industry's leading New Product Introduction (NPI) distributor with the widest selection of semiconductors and electronic components, is pleased to offer customers a new resource site dedicated to Current Sensing Solutions from Microchip Technology and Vishay Intertechnology. Current sensing is a key requirement for the development of smart motor controls and high-efficiency power supplies. The new site features a range of controllers, resistors, and amplifiers from Microchip and Vishay, offering a single resource for designers seeking reliable resistor-based current-sensing solutions.
The Microchip and Vishay Current Sensing Solutions reference site on the Mouser website offers links to a comprehensive selection of products from Microchip and Vishay, including product descriptions and ordering information. The site also includes a link to an informative white paper on using current-sense resistors to measure current for closed-loop power control. The white paper, titled "Basics and Trade-offs of Resistor-Based Current Sensing," examines high-side versus low-side sensing, with information on associated amplifier electronics, and provides information on determining the resistor value, selecting the right type of resistor, and physical connection factors.
The new Current Sensing Solutions site provides a selection of eight products designed to provide a reliable current sense solution for motor control applications. Current sense resistors often provide the most appealing solution when compared with Hall-effect devices and current sensing coils, and the combination of current sense resistors and amplifiers meets the demanding requirements of rugged industrial applications.
The Vishay/Dale WSLF power metal strip resistors support voltage division, current sensing, and pulse applications. The resistors feature low thermal electromagnetic fields (EMF) and very low inductance, and offer a resistance range of 0.003 Ω to 0.0003 Ω. Microchip's MCP6C02 high-side current sense amplifiers provide input offset voltage correction for very low offset drift, making them a suitable choice for motor control, industrial computing, and battery monitor applications. The MCP6C02 amplifiers feature a zero-drift architecture, enabling design flexibility while minimizing input errors.
To learn more and to read the "Basics and Trade-offs of Resistor-Based Current Sensing," white paper, visit https://eng.info.mouser.com/microchip-vishay-currentsense.
As an authorized distributor, Mouser Electronics is focused on the rapid introduction of new products and technologies, giving customers an edge and helping speed time to market. Over 800 semiconductor and electronic component manufacturers count on Mouser to help them introduce their products into the global marketplace. Mouser's customers can expect 100% certified, genuine products that are fully traceable from each manufacturer.
For more information, visit www.mouser.com.