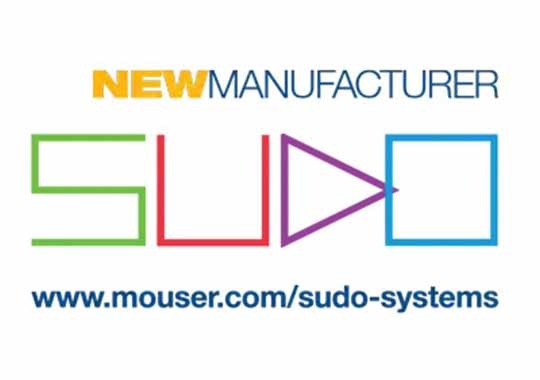 October 31, 2018 – Mouser Electronics, Inc. announces that it has entered into a distribution agreement with Sudo Systems, an innovator in high-performance embedded systems for next-generation Internet of Things (IoT) devices. As part of the agreement, Mouser becomes an authorized distributor of Sudo Systems' groundbreaking SudoProc system-on-module (SoM). This revolutionary, high-performance module drastically reduces development time and accelerates time to market for a variety of IoT applications, including industrial tablets, medical equipment, virtual reality devices, multimedia devices, infotainment and digital signage, robotics, and autonomous vehicles.
"Sudo Systems is a premier, cutting-edge supplier of high-performance embedded systems, and has established an outstanding reputation in the engineering community with their award-winning designs," said Andy Kerr, Vice President, Supplier Management at Mouser Electronics. "We're very excited about the opportunity to partner with Sudo Systems, as we expand our IoT offering and bring their innovative solutions directly to our customers."
"Mouser's position as a market leader offers Sudo Systems an even greater opportunity to access an even larger customer base," said Arne Korsika, CEO at Sudo Systems. "With Mouser's extensive distribution channel and best-in-class customer service, engineers across a broad range of markets can use the SudoProc SOM to build the next generation of IoT devices."
The Sudo Systems SudoProc SoM, available from Mouser Electronics, is a custom-designed, solderable module small enough to fit in designs with limited space. The module is based on a Rockchip RK3288 processor – a 1.8GHz, quad-core Arm Cortex-A17 system-on-chip (SoC) with a 600 MHz Mali-T764 GPU. The high-end feature set of the SudoProc SoM includes 4 GBytes of dual-channel, 1066 MHz LPDDR3 RAM, an embedded security engine, and a Gigabit Ethernet controller.
In addition to the large RAM offering, the SudoProc SoM provides 32 GBytes of onboard eMMC 4.5 storage that is expandable up to 512 GBytes on demand. The SudoProc module supports a variety of embedded operating systems including Android 5.0 to 8.0, Yocto, Debian, Ubuntu and SudoOS — a Linux-based operating system developed in-house for single-event applications.
The SudoProc module offers a variety of interfaces, including a USB 2.0 host and OTG, five UARTs, five I2Cs, three SPIs, four PWMs and up to 100 general-purpose inputs and outputs (GPIOs), which are programmable as interrupt inputs. The module provides eDP and HDMI 2.0 support with up to 4K (60 fps) of 10-bit H.265 video decoding as well as SPDIF and I2S/PCM for audio support.
To learn more about Sudo Systems, visit www.mouser.com/sudo-systems.