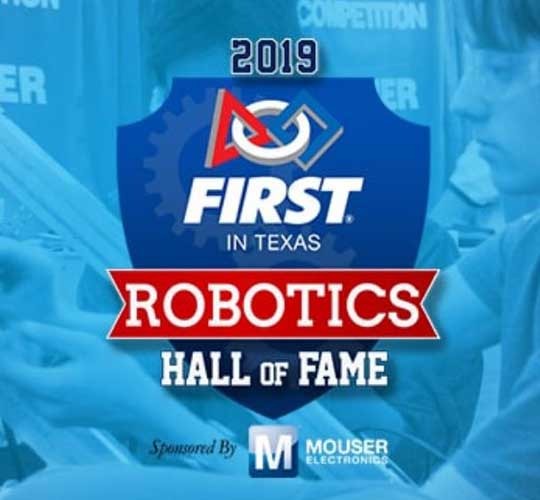 March 28, 2019 – Mouser Electronics is very pleased to announce that it is a major sponsor of the FIRST Division of the 2019 Texas University Interscholastic League (UIL) Robotics State Championship for the fourth straight year. The competition is set for April 4-6 at the Palmer Events Center in Austin. As a Leader in Technology Sponsor, Mouser also will showcase fascinating technologies at its exhibit at the FIRST in Texas Hall of Fame.
At 120 FIRST contests around the world, more than 3,600 teams comprised of 90,000 students are competing in a new adventure, DESTINATION: DEEP SPACE.
Since January, teams have been building, programming and testing robots with the guidance of adult mentors as they ready their robots to battle it out against other teams. The challenge is to build and program a robot to perform prescribed tasks against a field of competitors, raise funds and design a team brand, all the while honing teamwork skills.
"Since our founding, Mouser has been dedicated to fostering education, especially when it comes to inspiring young people's interest in science and technology," said Kevin Hess, Mouser's Senior Vice President of Marketing. "We are proud to again sponsor UIL Robotics: FIRST Division, a platform for students to solve real-world engineering challenges while building self-esteem."
Since 2012, Mouser has sponsored FIRST (For Inspiration and Recognition of Science and Technology), the world's leading student-serving nonprofit advancing science, technology, engineering and math (STEM).
In addition to sponsoring local FIRST Robotics teams and the FIRST in Texas Championships, Mouser is sponsoring the Hall of Fame exhibit at the FIRST Championship events in Houston (April 17-20) and Detroit, (April 24-27) showcasing winners of the Chairman's Award, the highest honor a FRC team can receive. The Chairman's Award recognizes one team annually that best embodies the purpose and goals of FIRST. Mouser's support for the Hall of Fame helps inspire tomorrow's engineers.
FIRST Robotics Competition is an annual competition that challenges high school students to build 120-pound robots that complete a different task each year using a standard set of parts, plus any additional off-the-shelf or custom parts. Each team receives a kit of parts, including motors, batteries, a control system, a PC, and a mix of automation components — with no instructions. Teams have six weeks to transform their kits into working robots designed to perform specific tasks.
To learn more about how Mouser supports FIRST, visit www.mouser.com/first.