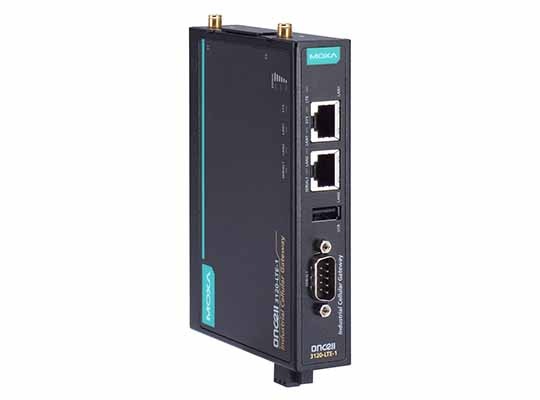 Taipei, Taiwan, February 6, 2020—Moxa recently unveiled the OnCell 3120-LTE-1 compact cellular LTE gateways. Designed to connect remote serial and Ethernet devices to a cellular network, the OnCell 3120-LTE-1 Series allows you to easily deploy your applications in various IIoT remote-access scenarios. With its power saving features, a wide operating temperature of -30°C to 70°C, secure VPN communication, and innovative GuaranLink technology for reliable cellular connectivity, the OnCell 3120-LTE-1 Series ensures uninterrupted connections over LTE networks.
In addition, these gateways support our powerful OnCell Central Manager software to easily configure and manage a high volume of OnCell cellular gateways over cellular networks including remotely rebooting and performing firmware upgrades.
Low Power Consumption Enables Solar-powered Battery Operation
The OnCell 3120-LTE-1 Series provides two standby modes to reduce power consumption when the device is idle, enabling it to operate using solar-powered batteries. The sleep mode effectively reduces the power consumption to less than 2 watts and supports wake-up through either SMS or a preconfigured schedule. Meanwhile, the hibernation mode further lowers the power consumption to less than 40 milliwatts and supports wake-up through a preconfigured schedule.
Uninterrupted Connectivity and Secure Wireless
The compact OnCell 3120-LTE-1 gateways feature our exclusive GuaranLink technology designed to detect cellular connection issues, such as an unresponsive base station, and automatically trigger a recovery process to restore the connection. VPN communication is available in both master and client mode with support for site-to-site security protocols, such as OpenVPN, GRE, and IPSec to help you easily establish secure connections between two networks and improve data security. In addition, the gateways have enhanced security features based on the IEC 62443 standard to offer all-around network protection.
OnCell 3120-LTE-1 Series Highlights
Low power consumption suitable for solar-powered applications
GuaranLink technology for uninterrupted cellular connectivity
Secure VPN connections through IPSec, GRE, and OpenVPN protocols
Rugged hardware design suitable for hazardous locations (ATEX Zone 2/IECEx)
Dual SIM support for cellular redundancy