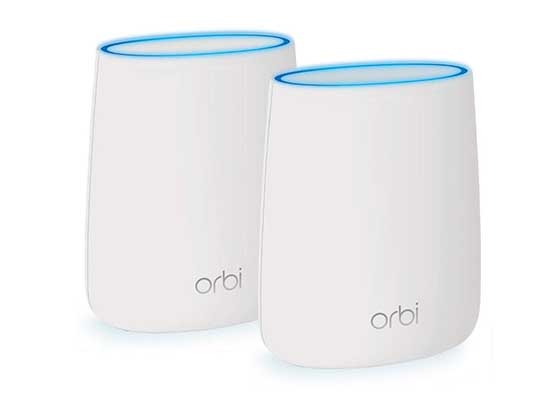 New Delhi: December 20, 2018: Hardly a day goes by without yet another organisation falling prey to a cyber attack or data breach that has led to reputational and financial losses, home routers can also play a bigger part in accessing your files and folders, if configured incorrectly it can become an open door allowing hackers and cybercriminals to infiltrate your network and potentially hack your system, NETGEAR, a leading provider of home networking has come to the aid of providing a wide range of mesh routers including the NETGEAR Orbi RBK20 Wi-Fi Router and Satellite that delivers unparalleled Wi-Fi coverage and at the same time provides high security to your internet devices.
The Orbi RBK20 can cover homes up to 4,000 square feet with strong WiFi signals and the Innovative Tri-band Wi-Fi helps maximize the Internet speeds available in your home. The RBK20 has a unique, industry-first Tri-band architecture with a dedicated 5GHz wireless connection between the router and  satellite, which provides both reliable WiFi coverage and maximum internet speed throughout your home with a single network name. The Orbi Systems all deliver industry-leading 802.11ac AC2200 WiFi speeds up to 2.2Gbps*, so you can enjoy seamless WiFi everywhere in your home and around your property, without any dead zones.
With the increase in demand for better Wi-Fi throughout their home, the Orbi RBK20 addresses a broad range of home environments, from apartments to sprawling estates. The 2.2GPbps Wi-Fi is enhanced by FastLane3, and the coverage increased by four high-gain internal antennas. It has dedicated Tri-Band Wi-Fi and works on a single network name.
Orbi works with a single WiFi network name and has dedicated Tri-Band WiFi for 4K HD video streaming and gaming. Users can also control Orbi through a variety of voice commands for Amazon Alexa and the Google Assistant.
The RBK20 eliminates dead spots due to challenging building materials, as it's easy to add another satellite if needed, under the same network name. With NETGEAR's patented industry-first Tri-band WiFi, you can stream your favorite TV series in the upstairs master bedroom while your kids are playing rapid-fire online games in the media room downstairs, all without a hitch
Key Features:
2Gbps with up to 555 square meters of coverage
FastLane3 Technology – The dedicated WiFi backhaul creates better 4K HD streaming & gaming, even as you connect more devices.
Single Wi-Fi network
Smart parental controls
Guest Wi-Fi network that allows access with sharing the main network password
2 Gigabit Ethernet ports
Works with Amazon Alexa and Google Assistant
For more information, visit at : www.netgear.com