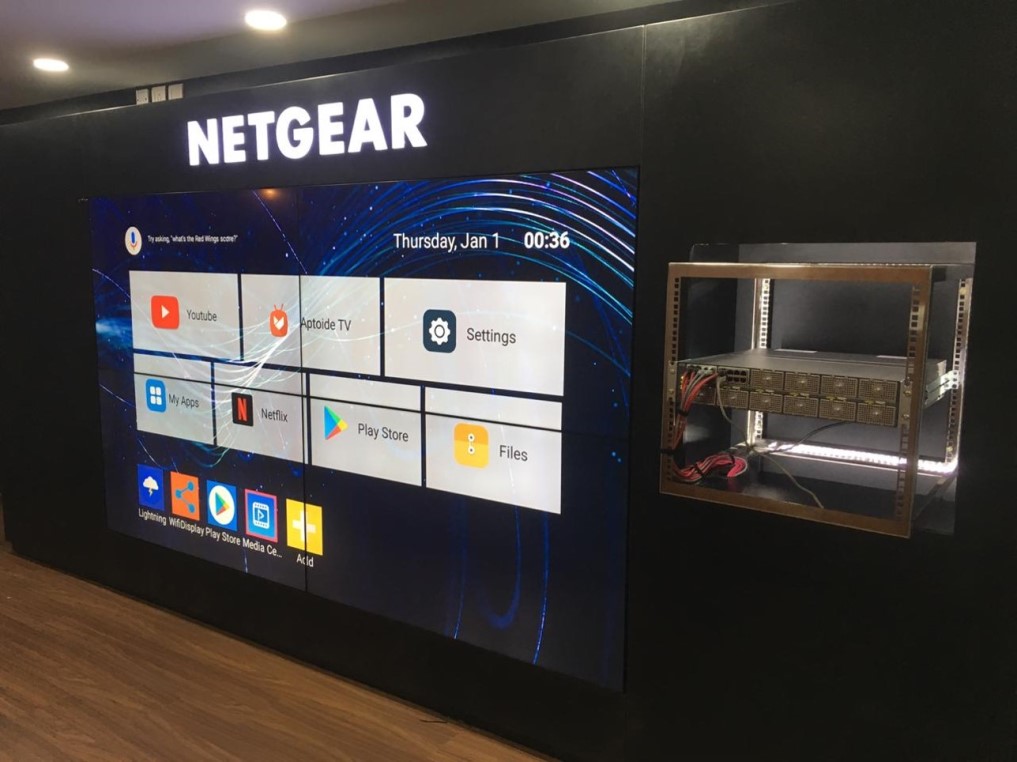 New Delhi February 14, 2019 : NETGEAR, Inc. the leading provider of networking devices that power today's smart home and small to medium-sized businesses (SMBs), has introduced the NETGEAR "M4300-96X" Stackable 10G and 40G Modular Managed Switch.
The NETGEAR M4300-96X is the world's only 2U rack height modular switch that comes either empty or pre-populated and scales up to 96 ports of 10G Ethernet or up to 24 ports of 40G Ethernet, or a combination. With 12 open slots and two redundant power supplies, the M4300-96X supports maximum granularity between copper, PoE+ and fiber and unrivalled headroom for organizations buying infrastructure for the long term.
IP convergence has already happened with telephony, surveillance and audio industry. While till date the IP convergence in Audio Video industry was limited. Now, with the new line of products from NETGEAR, the convergence in the professional AV industry is simplified, and this industry is also moving to the network. The Software Defined Video over Ethernet (SDVoE) Alliance provides a standard programming interface so that even if components are sourced from different suppliers, products and solutions such as the M4300-96X Switch merge easily and cost-effectively into a modern and open platform without complex coding.

To truly converge, IT and AV networks, pre-configured 10 Gbps infrastructure is ready with NETGEAR SDVoE-ready M4300 switches. Instant installation with pre-enabled IGMP/multicast, scalability and affordability gets your ProAV deployment running in no time, with optimal 4K no-compromise quality.
To take unnecessary complexity out of AV-over-IP deployments, NETGEAR created M4300 switches that are preconfigured for easy, true AV and multicast Zero Touch network configuration. IGMP Snooping, IGMP Fast Leave and IGMP Querier are already enabled for the default VLAN 1 that devices will automatically use – no need to log onto the switch. Simply select the M4300-96X port expansion cards that fit your requirements, insert the cards, connect your SDVoE encoders and decoders, and power on the switch.
"The commitment of NETGEAR to the SDVoE standard means that SMBs & Enterprises can leverage NETGEAR switching products that are easy to set up and are used to provide the backbone network for their audio-video products. Our M4300-96X Managed Switch is far superior to a fixed port solution, as you can start small and adds capacity in non-blocking mode, merely by adding port expansion cards." commented Marthesh Nagendra, Country Manager – India & SAARC, NETGEAR.
Key features of the M4300-96X Modular Managed Switch:

Streamlines AV-over-IP SDVoE solutions, replacing 48×48 circuit switchers
1.92Tbps Non-blocking fabric for 96x10G or 24x40G or a combination
12 empty slots in 2RU for 8x10G or 2x40G port expansion cards
Two empty slots for redundant power supply units (PSU)
PoE over 10G is supported in first 6 slots (48x10G PoE+ 30W each)
Use the M4300-96X online configurator to design your modular switch
Zero Touch AV-over-IP with pre-configured L2 Multicast (SDVoE-ready)
Advanced Layer 2, Layer 3 and Layer 4 feature set – no license required
IGMP Snooping, IGMP Fast Leave, IGMP Querier are already enabled
Innovative Spine-and-Leaf 1G, 10G and 40G mixed stacking with non-stop forwarding
Front-to-back cooling for hot/cold aisle containment in server rooms
1G OOB, RJ45 RS232 and Mini-USB console management, USB storage
Easy-to-use Web browser-based management GUI
Availability:
The NETGEAR M4300-96X Stackable 10G and 40G Modular Managed Switch is available through NETGEAR Authorized resellers. Price on Request; Regional variance may apply to the final pricing for customers depending on the reseller offerings.
More information is available from the NETGEAR investor page