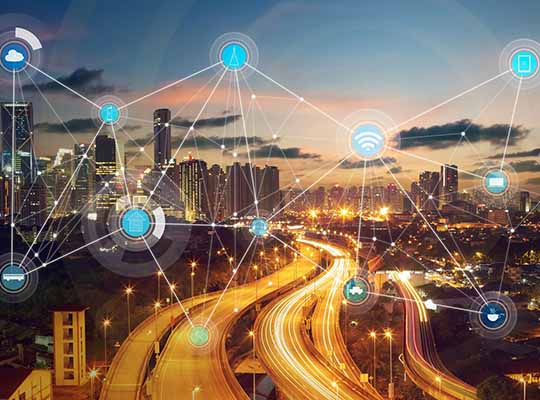 Emerging market economies have rarely led the commercialization of emerging technologies. This is largely because emerging technologies were based on costly physical product technologies that produced airplanes, automobiles and more recently semiconductors and Micro-Electro-Mechanical Systems (MEMS) devices.
Much has indeed changed today in the information or knowledge economy, where exceptional infrastructure costs are no longer relevant in the context of emerging digital technologies. Burgeoning markets such as India are now demonstrating many instances where both technological expertise and infrastructure capital are available facilitating a faster embrace of digital disruptors such as Cloud computing, Data Analytics and the Internet of Things (IoT).
It is also not difficult to see why a technology standard such as the IoT is such a great fit in the context of social and economic development of economies such as India. There is enough evidence, many in public domain, that demonstrates crucial impact mechanisms through which IoT is in fact particularly suited to improving living conditions in emerging and developing countries such as India.
Throughout 2020, several coastal communities in southern India witnessed how a network of modern IoT-sensors on mobile devices helped give early warning to these communities that are often in areas vulnerable to natural disasters, while fishing trawlermen were now able to use two-way emergency communication channels for the first time.
Apart from such obvious benefits, IoT-enabled technologies also promise radical new ways to bring services such as insurance, finance and healthcare to underprivileged markets in rural India, spurring an integration between markets, services and goods while also simultaneously lowering operating costs for providers.
For centuries, industries, including agriculture, railways and fisheries, have operated offline, and have not had the opportunity to take full advantage of the latest advances in technologies such as artificial intelligence (AI) and IoT.
Today, that status quo has changed with the availability of such new digital technologies in India. Last December, India announced that it was the first to deploy what is arguably the world's first satellite-based NB-IoT network, which promises to transform lives and our domestic industries.State run company BSNL announced this breakthrough technology in partnership with Skylotech India.
This new 'Made in India' Solution, which is indigenously developed by Skylo, will connect with BSNL's satellite ground infrastructure and provide PAN-India coverage, including Indian seas. The coverage will be so vast that it will not leave any dark patch within the boundary of India, from Kashmir and Ladakh to Kanyakumari, and from Gujarat to the North East, including the Indian seas.
Let's take an example of agriculture, an answer to the problem of how food producers and thousands of Indian farms could become smarter, leaner and faster might lie in new technology, and particularly IoT.
IoT monitoring technology, with sensors that offer information on soil nutrient status, pest infestation and moisture, all used to improve crop yields over time. It is already helping producers meet India's strict new import regime. There is now, therefore, an opportunity to build use cases by building and deploying custom IoT-based solutions, which can help India improve its per capita food availability while moving towards food security and becoming a self-reliant nation.
The technology is already in the throes of widespread adoption in India and, despite some slowdown due to the pandemic in 2020, is well on track to connect 5 billion households in an IoT ecosystem by 2022. Research from global management and strategy consulting firm Zinnovsuggests that IoT investments in India could reach US$15 billion by 2021, spurring growth in consumer and industrial IoT, driving the rapid expansion of India's IoT market.
When Prime Minister Narendra Modi articulated his vision for India in 2025 – as a US$5 trillion economy through sustainable and inclusive development, he placed digital technologies such as IoT at the centre of his plans to transform India. As widespread digital transformation accelerates and causes positive shifts in both society and industry, the increasingly synergistic relationship between IoT technologies and the Indian economy will offer myriad use cases that can adequately demonstrate how it is transforming the lives of millions of Indians, many living in thousands of underserved communities scattered around the subcontinent, and integrating them with India's transformation story in more ways than it meets the eye at the moment. 
About the other: The writer is a leading thought leader, television panelist on business, finance, technology and economy as well as a development activist. He is also chairman of the Centre for Socio-Economic Studies, New Delhi. He is also a former member of Sports Authority of India. Mr Siddhartha Upadhya's brainchild Khelo Dilli is a hugely popular programme which has been adopted and replicated in many other states.