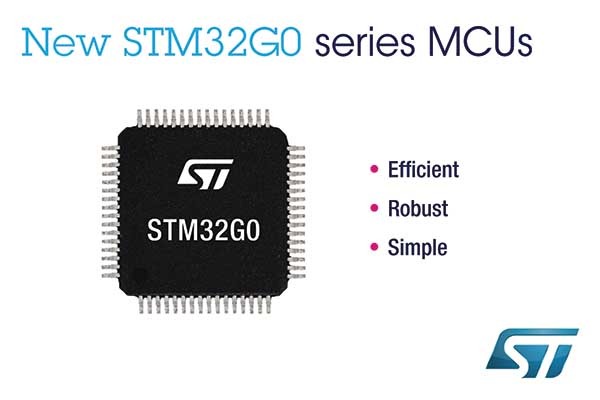 Lower power consumption and large memory density in low-pin-count packages create compact efficient platform for smart connected objects

Robust new Arm® Cortex®-M0+ series with simplified power connection, superior EMS protection, and class-leading hardware-based security

Enhancements to peripherals, plus support for USB Type-C and Power Delivery
Geneva, December 5, 2018 – By adding the new STM32G0 microcontrollers (MCUs) to the STM32 family, STMicroelectronics, a global semiconductor leader serving customers across the spectrum of electronics applications, is stretching the portfolio of top Arm Cortex-M-core MCUs to more thoroughly cover key embedded-market segments. The new G0 series targets entry-level applications that require greater energy efficiency, functionality, security, and value, in a smaller footprint.
Extremely flexible packaging and memory options enable designers to do more within less space, and save cost. A new power-distribution architecture reduces external power and ground connections to just a single pair of pins, allowing more of the package pins — a precious resource in many embedded projects – to be allocated for user connectivity.
In addition, ST is making large memory densities available in small and economical low-pin-count packages. On top of this, the new generation features power-saving innovations that trim consumption close to that of specialized ultra-low-power devices.
To provide robust security for today's connected devices, the STM32G0 series introduces a variety of hardware-based features including memory protection to support secure boot. Some devices in the series add to these features an AES-256 hardware cryptographic accelerator with a true random number generator (TRNG) to aid encryption.
Another valuable feature that anticipates a growing need is support for the latest USB Type-C specifications that allow easy, high-speed connectivity and battery charging, including Power Delivery version 3.0.
The STM32G0 series is based on the Arm Cortex-M0+ core, which is conceived to deliver sharp performance within a tight power budget. It targets fast-evolving products in the connected world, including smartphones, smart kitchen equipment, and appliances, air conditioning, consumer or industrial motor controls, advanced user interfaces, IoT devices, rechargeable connected devices, drones, lighting systems, and more.
Further information can be found at www.st.com.