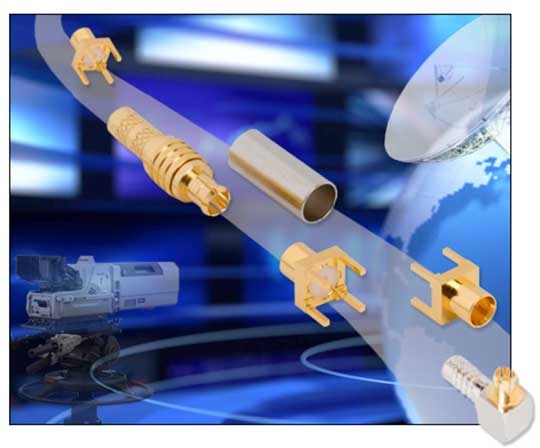 NORTHVALE, New Jersey, USA – New Yorker Electronics has added the new Amphenol RF 12G MCX Connectors to its lineup of 12G Optimized Amphenol RF Connectors. Designed specifically for 4K/Ultra-HD broadcast applications, they are used largely in 4K/8K Video Cameras, Mobile Broadcasting, Digital Signage and other state-of-the-art video applications. These new PCB Connectors and Cable Connectors boast standard 12Gbps performance per SMPTE.
Amphenol RF's line of high-frequency 75-Ohm Micro Coaxial connectors support data transfer rates of up to 12Gbps. This enables the transmission of high-resolution, uncompressed video signals. This new RF connector provides 4K and Ultra-HD quality signals in a micro-miniature package size and is ideal for broadcast modules and video routers.
This expanded product line features mount configurations designed with the reliable push-on coupling mechanism. The MCX connectors join New Yorker Electronics' already robust portfolio of BNC and HD-BNC products that are also optimized to support data transfer rates up to 12Gbps.
The addition of 75 ohm 12G MCX connectors brings versatility to the current line, allowing customers to terminate to the board in designs where the BNC or HD-BNC is not able to be mounted directly. Utilizing the MCX connector allows the 12G signal to be carried from the panel to the PCB using a single transmission line without compromising the quality of the video.
The 12GSDI MCX interconnect solutions are available as PCB connectors with edge-mount, straight or right-angle configurations, or as cable connectors for industry standard Belden 4855R cable. Ideal applications for these MCX connectors include 4K/8K video cameras, mobile broadcast, digital signage, remote viewing and video encoders and routers.
Features and Benefits:
12Gbps performance per SMPTE standard
One channel for 4K or Ultra-HD quality
Variety of PCB and cable products
Familiar push-on coupling mechanism
Applications
4K/8K Video Cameras
Mobile Broadcast
Digital Signage
Video Encoders
Remote Viewing
Video Router
New Yorker Electronics also supplies the full line of Amphenol RF MCX Connector products including the 12G BNC Connectors, the 12G HD-BNC Connectors, the 12G Adapters and 12G Cable Assemblies. As a franchise distributor for Amphenol RF, New Yorker Electronics also features its full line of RF connectors designed for use in cable mount, PCB mount and Board-to-Board solutions as well as its non-magnetic, IP rated sealed and isolated connectors; in-series, between series and T-shaped coaxial adapters; in-line barrel adapters, bulkhead and panel mount solutions; and its pre-assembled, fixed length, standard cable assemblies.
For more information, please visit at: newyorkerelectronics.com