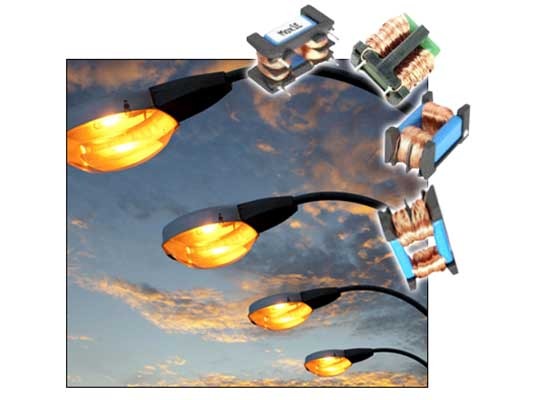 August 13, 2019 – New Yorker Electronics is distributing Moxie Inductor's new Current Compensated Frame Core Power Line Chokes. The new ROHS-compliant device is vertical mount and supply high inductance with low resistance. They are available in four series with varying rated currents.
Rated voltage for all four series is 250VAC maximum at 40°C. The operating temperature range is -25°C to +85°C with industrial temps available on request. These power line chokes are ideal in Lighting Ballasts, Switch Mode Power Supplies and Industrial Electronics applications.
The Moxie MOX-FCC-2413 Double Choke Series has a rated current of 0.29~2.93A and available inductance values of between 10mH and 100mH with a DCR from 285 to 2,920mΩ. The MOX-FCC-2323 Double Choke is rated between 1.55~4.05A. Its inductance values range between 2.20mH and 25mH and the DCR ranges from 65 to 295mΩ.
The MOX-FCC-1314 Series is also on the list of new Power Line Double Chokes. It has a rated Current between 0.45~1.60A, an inductance value between 10 and 100mH and a DCR between 285 and 2,920mΩ. Moxie's MOX-FCC-2915V Choke Series, rated between 0.70~2.30A, also has an inductance value between 10 and 100mH with a DCR of between 185 and 1,805mΩ. All four series are available in bulk or tray packaging.
MoxiE Inductor Corporation is a direct source for inductors, chokes, coils, LAN magnetics and transformers. New Yorker Electronics is a franchise distributor of MoxiE Inductor Corporation and supplies its full line of High Current, Shielded and Unshielded, Laser Cut Chip, Ceramic Chip, Ferrite Chip and Power Inductors; SMD and Through-Hole USB Connectors; RJ45 Connectors, Radial Leaded Toroids, Radial Power Line and Common Mode Chokes and more.
Features & Benefits:
Vertical Mount Design
High inductance; low resistance
RoHS Compliant
Current Rating up to 4.05A
Rated voltage: 250VAC maximum @ 40°C
Operating Temperature Range: -25°C to +85°C
Bulk or Tray Packaging
Industrial Temps available
Applications:
Lighting Ballasts
Switch Mode Power Supplies
Industrial Electronics