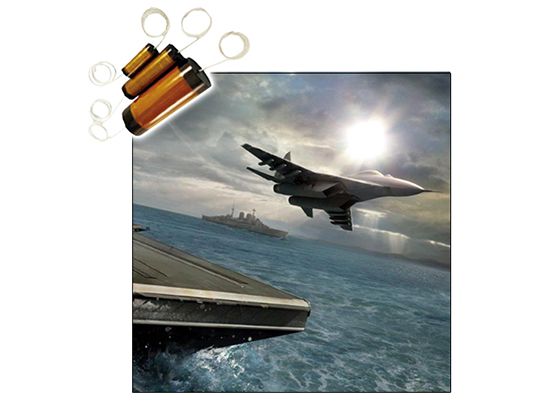 September 24, 2020 – New Yorker Electronics is now distributing the new Exxelia Temex CF/CFS Series Dielectric Ceramic Pulse Chips Capacitors with a Printed Resistor option. Designed for Military/Defense, these Fuze Chip Capacitors are ideal for charge/discharge applications and AC filtering for high power RF.
It offers the lowest loss characteristic of all film technologies less than 0.1% at extreme temperatures (200°C) with excellent life performance in operations. The series offers great resistance to vibrations, shocks and to over voltage making it ideal for Oil & Gas applications as well as Defense and Civil Aviation. Made in the USA, it boasts rugged, lightweight construction.

These non-inductive wound PTFE metallized polymer film capacitors are available in voltage ranges from 250VDC to 800VDC and in capacitance ranges from 0.22μF to 1μF. They come in standard tolerances of ±10% and ±5% and operate at temperatures between -55°C and 200°C.

These wrap-and-fill capacitors are constructed with non-Inductive wound PTFE metallized Polymer film in a flame retardant tape wrap and high-temperature resin end fill. Lead material for PTFE less than 600V PTFE uses insulated silver stranded copper wire and uses MIL-W-16878/4 (Type E) wire for those greater than 600V. It is capable of withstanding a five-pound pull force on lead axis.PTFE is the only film able to preserve its properties beginning from cryogenic temperature up to 200°C, making it suitable for high-temperature sampler-blocker and stopping sampler applications. Polystyrene (PS) capacitors are perfect as precision capacitors for time constant and filter applications in aeronautics, defense, rail, telecom and medical fields.Exxelia is an established designer and manufacturer of complex passive components, resistors and sub-systems dedicated to harsh environments. New Yorker Electronics is a franchise distributor of Exxelia Dearborn of the Exxelia Group and supplies its full line of Film, Mica, Tantalum, Aluminum Electrolytics and Ceramic Capacitors as well as its EMI/RFI Filters, Magnetics, Position Sensors, Slip Rings and Rotary Joints.
Features & Benefits:
High temperature to +200°C
Unparalleled stability and life through full Temperature/Voltage range
Can replace several X7R caps due to no derating
Rugged/Lightweight Construction
Manufactured in the U.S.
Applications:
Oil & Gas
Aerospace & Defense
High Temperature modules
For more information, please visit: http://www.newyorkerelectronics.com/Exxelia_Wrap-and-Fill_Film_Capacitors