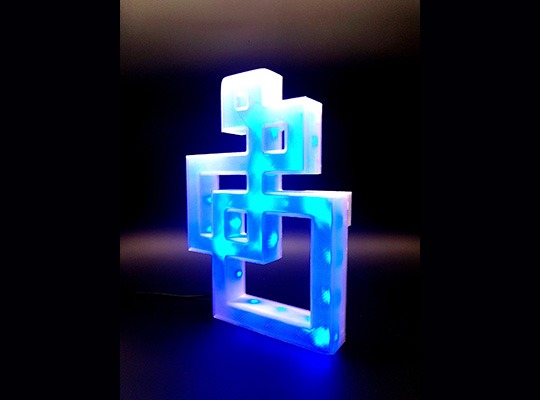 Munich, Germany – March 19, 2020 – The research project OpenLicht was launched in September 2016 and stands for the design of smart, customized light solutions based on open source and new materials. OpenLicht was funded by the German Ministry of Education and Research (BMBF), with the goal of enabling new forms of collaboration between science, business, maker and startup community. Infineon Technologies AG is supervising the project in close cooperation with Bernitz Electronics GmbH, Deggendorf Institute of Technology and the Technical University of Dresden.
The results are now being made public and include the prototype of a smart lighting system based on artificial intelligence. It automatically adjusts the light in the room to the user's position and activity, such as reading or watching TV, learns the person's preferences and can even respond to a certain degree to circumstances it has not learned previously.
The solution developed in the project is based on open source approaches like openHAB, a smart home system, and machine learning libraries. Use of freely available development environments, software frameworks and low-cost hardware solutions enables integration of a wide range of different sensor data and further development of existing results by the community.
Intelligent light design is entering the smart home and – so the vision – will accompany us through our everyday life with fully automated solutions. However, the ones currently available on the market so far often pose a raft of challenges for users. It is frequently the case that they are, at most, partly automated and are complicated to program. Moreover, the systems often fail to safeguard privacy or unnecessarily consume power, since light usage is not tailored ideally to the user's needs, which in turn has a negative impact on CO 2 emissions. OpenLicht has found answers to these challenges.
Smart light solutions with the aid of artificial intelligence (AI)
The use of AI in the local network creates smart light solutions that are safe, yet sustainable and safeguard the user's privacy. The AI acts on a system that is closed off from the outside world and does not have to be connected to the Internet. An open source gateway based on a Raspberry Pi and an Infineon Trusted Platform Module (TPM) has been developed to enable that.
That means data does not have to be sent to the cloud, but can instead be processed locally, which ensures security and privacy for households. These factors are vital in increasing the acceptance of smart home solutions. In addition, automatic adjustment to the user's activities makes sure the light required at a particular moment is available. That avoids unnecessary "floodlighting" and helps protect the climate without the need to appeal to users' conscience.
Open light for everybody
Software developments have been documented by OpenLicht and published on GitHub, for example, while new light ideas have been fleshed out in do-it-yourself projects and made available for replication on platforms such as "Thingiverse" or "Hand im Glück." The platform concept also fosters dialog within the light community. The ultimate goal is to enable everyone to develop state-of-the-art light solutions.
In the evaluation phase, OpenLicht involved various creative partners at the interface between knowledge, innovation and design in order to open up access to light development: In cooperation with Munich University of Applied Sciences and the Strascheg Center for Entrepreneurship, students of design, electrical engineering and economics developed light innovations, built demonstrators and created business models. At the Lichtwoche München trade fair in 2019, various workshops were able to be held – both with laypersons and professionals – to implement modern light solutions, for example using 3D printing technology. And at an event staged in cooperation with the "Technik für Kinder" association in Deggendorf, children built their own smart light in just one morning. OpenLicht therefore enables light to be grasped in a dual sense: Lighting responds to movement and can be used, developed and redesigned by everyone.

This information is available online at
https://www.infineon.com/cms/en/about-infineon/press/market-news/2020/INFXX202003-041.html