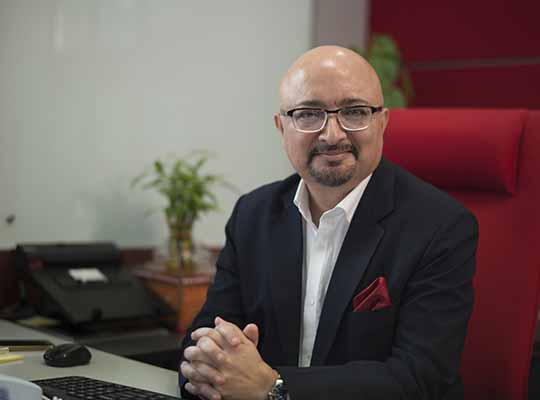 As a company, Barco is focused on leveraging digital advances for the well-being of our employees and customers. Our new generation technology enables a number of customers across focus segments such as enterprise, education, smart cities, and control rooms for surveillance and security noted rajiv Bhalla, MD, BARCO INDIA. In this interview with TimesTech Editorial, he unveils the company's ahead strategies, offerings and elaborates on their flagship offering ClickShare which is revolutionizing the way conferences are traditionally organised.
TimesTech: How is Barco enabling hybrid collaboration in the post pandemic world to strengthen business continuity?
Rajiv Bhalla: Barco is a frontrunner in the hybrid collaboration segment. Our hybrid work solutions, such as the ClickShare series, were present in the market even before the pandemic made hybrid collaboration a necessity. In that regard, we at Barco were blessed with foresight and prepared to strengthen business continuity for organisations when the pandemic disrupted normal life. As the leader in the hybrid collaboration space, we are primed to be the change advocate and drive adoption of technology, on a global scale, to enable a next-generation work model. Our aim is to empower organisations and help them meet continuously evolving business requirements through focused hybrid collaboration solutions. Barco's R&D team is striving to strengthen the global software development structure and devise a more customer-oriented strategy focused on creating solutions with, and for our customers.
Our foremost offering, targeted at optimising hybrid collaboration, is ClickShare, the one-stop wireless presentation and conferencing hub for the hybrid workplace. Harnessing our range of ClickShare products and solutions, we offer frictionless entry for all users, no matter where they are working from. The solution ensures that no workplace is too remote or unreachable. We also have some offerings in Software as a Service, and in subscription and pay as you go models to further aid organisations on their hybrid workspace journey. Barco is promoting agile software developments and aiming to strengthen business continuity by ensuring faster and more accurate product releases.
TimesTech: What are the key priorities for Barco when it comes to enabling digital transformation for its customers?
Rajiv Bhalla: As a company, Barco is focused on leveraging digital advances for the well-being of our employees and customers. Our new generation technology enables a number of customers across focus segments such as enterprise, education, smart cities, and control rooms for surveillance and security. We believe that digital is the future and, our key priorities, when it comes to enabling digital transformation for our clients, revolve around our host of remote and hybrid work solutions. Our suite of collaboration and visualization solutions ensure that no workspace is too remote or disruptive when it comes to getting work done. Even before the pandemic, we realised that the future of work was changing and this insight helped us develop solutions enabling customers to adopt a digital strategy focused on flexibility and agility.
TimesTech: What are the key elements that make ClickShare different from other wireless conferencing solutions?
Rajiv Bhalla: It is our belief that future workplaces must adopt future-ready technology and innovative solutions. Various surveys, including Barco's latest survey on future workplaces indicates that organisations need to invest in videoconferencing solutions to make hybrid work easier and this is where Barco ClickShare comes in. Our range of innovative ClickShare products and solutions ensure that one click is all it takes for customers to navigate all collaboration processes, from simple screen sharing to running the meeting from a remote laptop. The key elements which differentiate ClickShare and make it a frontrunner in the market are its ease of use, triple agnostic nature, reliable security and seamless functioning. With optimal applications and enterprise-grade security, the innovative ClickShare Conference puts organizations at ease, bridging the divide between remote work and work from office. Equipped with powerful remote communication and easy-to-use wireless collaboration, ClickShare Conference is secure, connected and cloud managed, enabling conferencing and collaboration in just 7 seconds. ClickShare also boasts of the ISO/IEC 27001:2013 security certification. The solution's triple agnostic nature allows organizations to adopt hybrid work without drastically disrupting the existing workspace, making the solution cost-effective and efficient.
TimesTech: What are the new technology trends influencing the hybrid work culture? How Barco is enhancing its collaboration technology with ClickShare Conference Solutions?
Rajiv Bhalla: Across the globe, employees are now used to working from home and prefer flexibility. Therefore, there is no question that hybrid work is here to stay. New technology trends influencing the hybrid work culture include a greater dependence on next generation technologies like Artificial Intelligence, Machine Learning, Cloud Infrastructure, Software as a Service, and Internet of Things. In addition to these trends, we are also seeing a rapid evolution in the accepted work culture and norms. Surveys indicate that technology is empowering offices and employees to be more efficient, flexible, and resilient, over the longer term. Agility is highly valued in today's hybrid work culture and this has led to an explosion in the gig and contractual economy. Traditional businesses need to adapt and opt for reliable technology which enables them to participate in this revolution.
Barco is enhancing its collaborative capabilities with regular updates to the ClickShare range of solutions. There has been a major uptick in the adoption of virtual collaboration tools, video conferencing tools, and communication tools and the ClickShare Conference is enhancing collaboration technology across various segments. Offering customers the possibility of 'Bring Your Own Meeting', ClickShare Conference is the epitome of seamless hybrid collaboration and Barco is striving to consistently upgrade the solution in preparation for the next normal.
TimesTech: What are the new product verticals that Barco is planning to expand in its Indian market?
Rajiv Bhalla: At Barco, our expanding global R&D teams are hard at work, with the aim of bringing newer and more advanced technology offerings, across our target verticals like entertainment, enterprise, education, healthcare and control rooms. We are keen on acquiring intrepid talents to support us in this endeavour. As India is one of our top global markets, Barco's efforts are focused on creating country-specific solutions which offer users premium features at competitive prices. We have been updating our ClickShare Conference models and, recently, we also launched the new ClickShare Present in the global markets. Once the solution is in line with Indian requirements, we will launch it in the country. We are also working on launching new models in our projector segment, aimed at the entertainment industry which is one of our major verticals. Under the education or Learning Experience segment, we are working on weConnect and in Healthcare, the cancer detection tool Demetra is being developed for the Indian market.