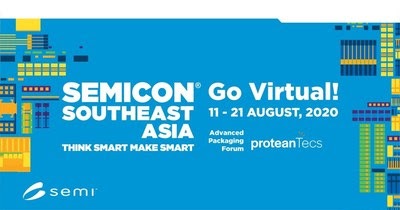 HAIFA, Israel, Aug. 11, 2020- proteanTecs, has announced that the company will participate in the first-ever virtual Semicon Southeast Asia. Nir Sever, Senior Director of Product Marketing at proteanTecs, will present a live webinar at the Advanced Packaging Forum on August 14th at 9:45am GMT.
The presentation titled: "Deep Data chip telemetry for quality & reliability monitoring of heterogeneous packaging" will feature a new approach to gaining visibility in advanced packages, during production and in-field.
"Advanced packaging solutions are a key pillar in overcoming the existing limitations of monolithic integration," commented Evelyn Landman, proteanTecs CTO. "Heterogeneous integration technologies, such as 2.5D/3D stacking, tiling, intra-die routing, through-silicon vias, chiplets and fan-out, have significantly increased system capabilities and performance but have introduced new challenges due to their high density, high frequency nature. By applying Deep Data analytics, from design to field, manufacturers can overcome these limitations and gain much higher levels of quality and reliability."
SEMICON SEA is a virtual tradeshow connecting the region's electronics manufacturing supply chain and industry experts. At the event, visitors will hear from, and interact with, visionaries and executives from across the microelectronics supply chain and its markets. Presentations will feature emerging applications that demand the industry's design and manufacturing expertise.
For more information, visit: www.proteanTecs.com.