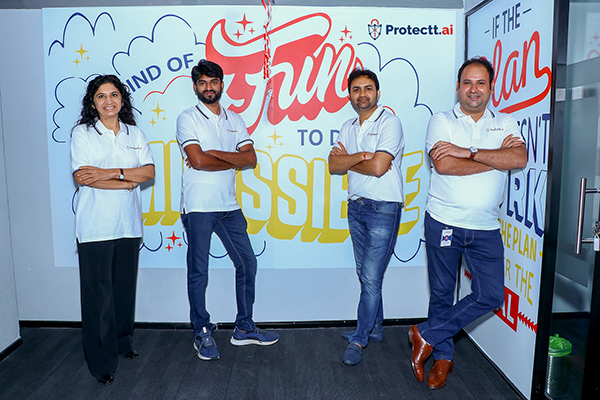 India- Protectt.ai has announced expanding its reach with an improved facility at Product Innovation Center, Chennai. The new centre will cater to the ever-evolving mobile threat defense needs of banking and financial enterprises by delivering solutions powered by deep tech and cutting-edge research in mobile security. This centre will give a boost to place India at centre stage of the world dynamics on advanced mobile app security solutions for organizations.  The Product Innovation Center will bring together Protectt.ai's digital ecosystem including clients, partners, startups and academia to inspire and nurture innovative Mobile Digital solutions in the cyber threat defense area.
With India attaining the stature of being a mobile-first economy with the world's highest number of digital transactions, new-age digital services & banking offered over mobile apps have come under repeated cyber-threats exploiting the multiple undetected vulnerabilities in the mobile ecosystem.
On this backdrop, Protectt.ai's Product Innovation Centre focused on Mobile App Security will be dedicated to R&D of mobile app security solutions and monitoring. It will be further enhanced as India's First Security Operating Centre (SOC) dedicated to Mobile App Threats monitoring by next quarter.
The benefits to enterprises will be in form of embracing a robust mobile app security framework which in turn can help them to deliver a secured and enhanced customer experience on their mobile apps. It also enables businesses to lower the cost of app security implementation while being fully compliant with regulatory guidelines.
The innovation center will further draw mileage from Protectt.ai's industry-first Innovation that uses unique Run Time Application Self Protection (RASP) for mobile app security & fraud control. Effectively businesses such as Banks, Insurance, NBFCs & FinTech can rely on Protectt.ai's pioneering MTD solutions while focusing on their core business.  
Manish Mimani, Founder & CEO, Protectt.ai commented, "At Protectt.ai our mission is to deliver best in class Mobile App, Device & Transaction security solutions to the industry and safeguard mobile application usage to enhance customer experience. We aim to build an Atmanirbhar Bharat in Mobile Cyber Threat Defense area by developing self-reliance, provide Import substitution, stimulate Digital Innovation & develop talent in Deep Tech space."
Mohanraj Selvaraj, Head Engineering, Protectt.ai said, "Our Product Innovation Center through its slew of R&D pursuits aims to break through Mobile App security challenges and address the pressing need of organizations to protect their mobile apps & transactions at a lower cost and reduce their import dependency."