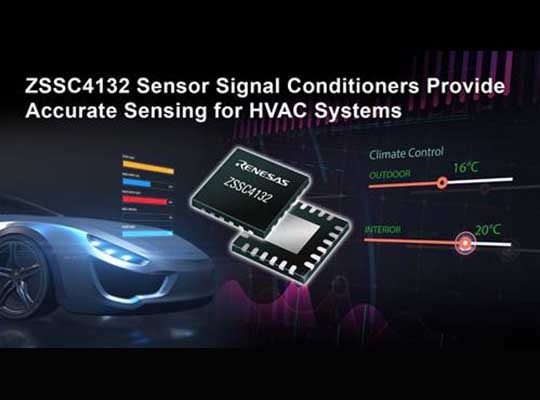 TOKYO, Japan ― July 9, 2020- Renesas Electronics Corporation introduced the ZSSC4132 – an automotive pressure sensor solution featuring an integrated certified LIN v2.2a interface. The single-package sensor signal conditioner (SSC) delivers best-in-class performance, increased design flexibility, and cost efficiency in a compact form factor for HVAC applications used in plug-in hybrid electric vehicle (PHEV), Battery Electric Vehicle (BEV), and Fuel-cell Electric Vehicle (FCEV) climate control systems.
The ZSSC4132 can be configured for nearly all resistive bridge sensors. This flexibility, combined with leading performance levels, an integrated LIN PHY, small package footprint, and AEC-Q100 Grade 0 qualifications, makes the SSC ideally suited for small automotive sensor modules with limited space, tight budget and end-of-line (EOL) calibration requirements.
"HVAC plays a significant role in EV battery range, and OEMs are looking for ways to improve system efficiency while maintaining high performance and staying within tight cost constraints," said Christian Wolf, Vice President, Automotive Sensor Business Division at Renesas. "With the ZSSC4132, customers can access a complete SSC solution that is already LIN certified, allowing them to easily and cost effectively scale their HVAC system development for mid-range up to high-end EVs and HEVs."
Key Features of the ZSSC4132
The ZSSC4132 combines best-in-class analog front end (AFE) technology for enhanced sensor signal conditioning as well as digital calibration to significantly reduce the noise sensitivity and deliver high accuracy for pressure and temperature readings. The SSC's integration reduces overall bill of material (BOM) requirements by minimizing the need for external components. In addition, the ZSSC4132's unique digital calibration feature that allows customers to minimize calibration efforts, further reducing overall system costs.
Additional features include:
LIN v2.2a certification with backwards compatibility to LIN v1.3, v2.0, and v2.1
Differential bridge sensor input that enables accuracy at ±0.5% full scale output for temperatures ranging from -40°C to 150°C
12- to 14-bit ADC resolution
Slave node position detection feature at the LIN bus, allowing the SSC to assign a unique ID to the device
Overvoltage and reverse-polarity protection circuitry
Electromagnetic compatibility
Multiple diagnostic features
Availability
The ZSSC4132 is available now in a 4mm x 4mm, 24-lead QFN package with prices starting at $1.38 USD per unit in 10,000-unit quantities. An evaluation kit for the ZSSC4132 is also available now with prices starting at $185 USD.
For more information please visit: renesas.com.