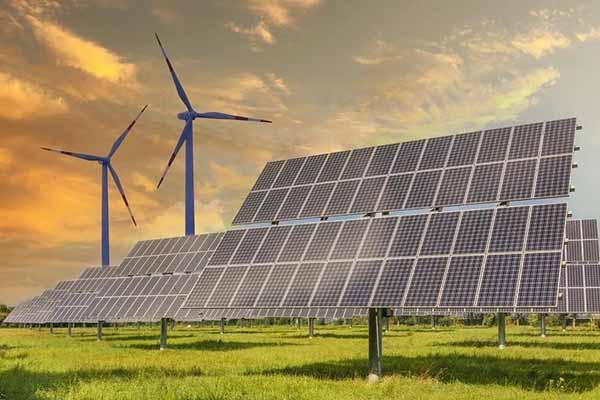 India's NDC aims to reduce the emissions intensity of its GDP by 33 to 35% by 2030 compared to 2005 levels, as well as to achieve approximately 40% cumulative electric power installed capacity from non-fossil fuel-based energy resources by 2030. India has achieved its target of producing 40% electricity from non-fossil fuel-based resources in November 2021. In the last 8.5 years, countries installed renewable energy capacity has increased by 396% and now stands at more than 159.95 GW including large Hydro projects. On the solar front, the capacity has increased by 109.4%, from 76.37 GW in March 2014 to 159.95 GW in May 2022.
Creating a Greener World:
India being the 3rd largest energy-consuming country in the world, its renewable energy industry is the world's fourth most appealing renewable energy sector. India ranked 3rd in the 2021 Renewable Energy Country Attractive Index. The geographical diversity of India holds enormous renewable energy potential. Rajasthan, Madhya Pradesh, and Maharashtra are leaders in renewable energy generation The country aims to achieve 175 GW of renewable energy capacity by the end of 2022, further expanding it to 500 GW by 2030, making it the largest renewable energy expansion plan in the world.
India is going strong in solar power generation. It is the second-largest market in Asia for new Solar PV capacity and the third globally. The solar tariff has been reduced by more than 75%. Under the PM KUSUM scheme, the number of installed solar pumps has increased from 11,626 in 2014 to 2.25 lakh in 2019. Schemes are in place to replace the traditional street light with solar street lights. Under the "Development of Solar Parks and Ultra Mega Solar Power Projects" capacity has been increased from 20 GW to 40 GW. To promote decentralized grid-connected solar power generation, the government has launched the "Grid Connected Solar Rooftop Programme" where the residential consumer who wishes to seek financial assistance has to approach the DISCOMs operating in his area for the installation of the rooftop solar plant.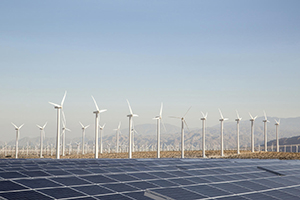 With a total installed capacity of 39.25 GW, the country now ranks fourth in the world in terms of wind installed capacity (as of 31st March 2021). The government is supporting wind power projects around the nation through private sector investment by offering different fiscal and financial incentives such as Accelerated Depreciation and concessional custom duty exemption on specific components of wind electric generators. India has set an offshore wind installation target of 5.0 GW by 2022 and 30 GW by 2030. More than 95 percent of the entire estimated potential for economically exploitable wind resources is concentrated in seven states (Andhra Pradesh, Gujarat, Karnataka, Madhya Pradesh, Maharashtra, Rajasthan, and Tamil Nadu).
The hilly states of India mainly Arunachal Pradesh, Himachal Pradesh, Jammu & Kashmir and Uttarakhand, and constitute around half of the small hydro potential. Special emphasis has been placed on the Small Hydro Power Programme to promote the use of new and efficient designs of water mills for mechanical as well as electricity generation and setting up of micro hydel projects up to 100 KW for remote village electrification in the country.
Emphasis has also been placed to recover energy from the waste and at the same time solve the disposal problem. The energy is being recovered from the waste in the form of Biogas/BioCNG/Electricity using the techniques like Bio methanation, Incineration, Gasification, and Pyrolysis. According to government estimates, India has the potential to generate approximately 5690 MW of energy from urban and industrial organic waste.
India has been implementing a biomass power/co-generation program since the mid-nineties. Currently, the Biogas plant is promoted under "Off-Grid/distributed and decentralized Renewable Power" schemes. Programs in new technologies like Ocean Energy, Hydrogen Energy, Geo-Thermal Energy and Energy Storage are now focusing on research, development, and demonstration. Additionally, the government has decided to co-fire 5-7% of biomass pellets with thermal power plants, saving 38MMT of carbon dioxide annually.
Energy Storage and Green Corridor:
Nature's vagaries impact renewable energy generators. To supply the electricity in a rapid, cost-effective, and stable manner we need a storage system that can absorb, store and supply energy to the grid according to the requirements of the grid. India's grid faces a lot of challenges. The demand and supply vary daily and seasonally. The seasonal variation can be addressed by power generators and distributors but the daily variations are addressed through battery storage.
Energy storage solutions will help the residential, commercial, and industrial users of renewable energy to enhance power quality and dependability. It will also reduce the use of diesel generators as a backup power option. As per the NITI Aayog India's battery storage demand will reach more than 1000 GWh by 2030. Out of this, power sector demand will be 150 GWh which means investment worth USD 60 Billion.
The battery supply chain involves Mining, Refining of raw material, Cell manufacturing and Module Pack assembly. Sourcing raw materials like Lithium, Nickel and Cobalt is one of the significant challenges for the country as these minerals are not found abundantly in the country. Government can source raw materials through agreements from the countries like Australia alternatively investment in technology from the minerals present in the country like Sodium-ion or Sodium Sulphur can also be explored.
The government has recently approved the second phase of the Green Energy Corridor. It is aimed at the evacuation of 20 GW of renewable energy from the 7 states namely Gujarat, Himachal Pradesh, Karnataka, Kerala, Rajasthan, Tamil Nadu and Uttar Pradesh. The project will synchronise renewable energy with conventional energy in the grid. The government has recently waived off inter-state transmission charges and losses for wind and solar projects.
Industry scenario: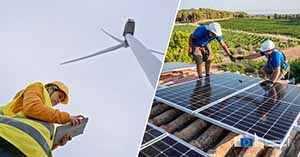 India has set a target to reduce its projected carbon emission by 1 billion tonnes by 2030, achieve net-zero carbon emission by 2070 and renewable energy installed capacity to 500 GW by 2030. Currently, India offers a great opportunity to invest in the renewable energy sector. The projects worth USD 196.98 billion are underway in the country. 45 solar parks with an aggregate capacity of 37 GW have been approved. The world's largest solar-wind hybrid renewable energy park is currently under installation in Gujarat. Along with solar and wind, the government has heavily invested in the research and development of new technology. The Green Hydrogen Mission is expected to generate 4.2 Mn Tonnes of annual Green Hydrogen.
The union budget of 2022 made an additional allocation of rupees 19500 crores for the solar PLI scheme. The government has also introduced Sovereign Green Bonds in the public sector Projects.
Growth Drivers:
The government's commitment to expanding renewable energy capacity along with the target to achieve net-zero carbon emission is driving investment in the sector. The government has approved 1 solar city per state and 45 solar parks with a combined capacity of 37 GW. Research, development and execution in new areas like Wind-Solar Hybrid, Off-Shore Wind Energy, Floating PV projects, Green Hydrogen, etc. are opening up a new area of opportunities.
Production-Linked Incentive scheme in High-Efficiency Solar PV Modules for Enhancing India's manufacturing capabilities and enhancing exports with a financial outlay of rupees 24,000 crores has been introduced under the Atmanirbhar Bharat 3.0. The government has also imposed a Basic Customs Duty of 25% on solar cells and 40% on solar PV modules w.e.f 01st April 2022 to protect domestic industry.
Besides electricity, India is also focusing on other forms of green energy. India met its objective of providing 10% ethanol-blended fuel in June, five months ahead of schedule, and is aiming for 20% ethanol blending by 2025-26 to reduce oil import dependency and solve environmental concerns.
Investment:
The government has allowed 100% FDI in the projects of renewable power generation and distribution through an automatic route. According to the data released by the Department for Promotion of Industry and Internal Trade (DPIIT), FDI inflow in the Indian non-conventional energy sector stood at US$ 11.21 billion between April 2000-December 2021. More than Rs. 5.2 lakh crore (US$ 70 billion) has been invested in India's renewable energy sector since 2014.
Conclusion:
Moving forward, India faces the dual issue of supplying more energy as well as cleaner energy to the masses, and huge volumes of storage and battery solutions are required to speed the uptake of renewables. Another problem restricting renewable resources is cost, as they are slightly more expensive than traditional sources.
Reducing CO2 emissions is the key to the world's rapid shift away from climate-damaging fossil fuels, toward clean, renewable energy sources. Climate change is becoming a major problem. As the world has begun to embrace the green energy revolution, it offers an excellent chance to integrate green energy into people's lives. India has proved that great progress can be made with tenacity and investment in sustainable technology. In a very short period of time, India has moved to the top of the world in green energy.