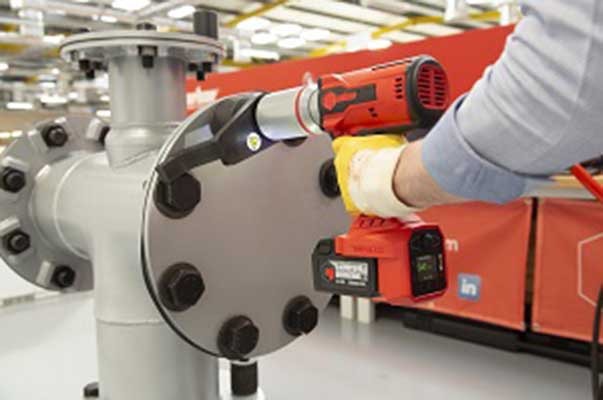 London, UK, 27 September 2019: RS Components, the trading brand of Electrocomponents has introduced a new series of battery-powered torque hand tools from Norbar Torque Tools – a world-leading specialist that offers a wide selection of units for torque applications, including tightening, measurement and calibration.
The EvoTorque Battery Tool (EBT) series has been specifically designed to deliver improved performance and data traceability in safety-critical and heavy industrial operations. Equipped with a high-powered and maintenance-free brushless motor, the series is ideal for applications where mains-supplied electric or pneumatic power is unavailable, or in environments where the presence of cables may constitute a safety risk.
In addition to outstanding performance, it also offers excellent thermal durability minimising any overheating problems, which can commonly occur with battery-operated tools. For many applications, the number of tightening cycles performed by a hand tool before it overheats is more critical specification than the number of cycles provided by the battery.
A key feature of the EBT is its transducer control, rather than being current controlled, which enables it to deliver a precise torque to within an accuracy of ±3%. In addition, the EBT units integrate the maker's 'intelligent joint sensing' technology, which continually measures the joint being tightened and will use dynamic braking to avoid torque over-shoot.
Two-way communication with the EBT is available either wirelessly via Bluetooth or via USB cable: as well as being able to download up to 3000 time/date-stamped readings or even stream live data from the tool, users can also upload information such as tightening sequences. In addition, all the tools come with a free copy of Norbar's EvoLog PC software to manage the data; alternatively, data can also be output in CSV format. Importantly, and especially for safety critical applications in fields such as railway infrastructure, the tool can also be used with mobile phones and tablets, thereby enabling the recording of torque tightening data that is linked to GPS coordinates.
The EBT cordless torque tool family offers three torque ranges with maximum outputs of 1350, 2700 and 4000Nm, with a single- and a two-speed device in each torque class. All the tools come in a hard case with two batteries and a three-bay rapid charger, which can fully charge cold batteries in 45 minutes. Accessories such as right-angle and offset gearboxes for bolts where there is limited headroom, for example, will soon be available from RS.
The EBT series is available to purchase from RS from 1 October in the UK and Ireland.
For more information, please visit at uk.rs-online.com