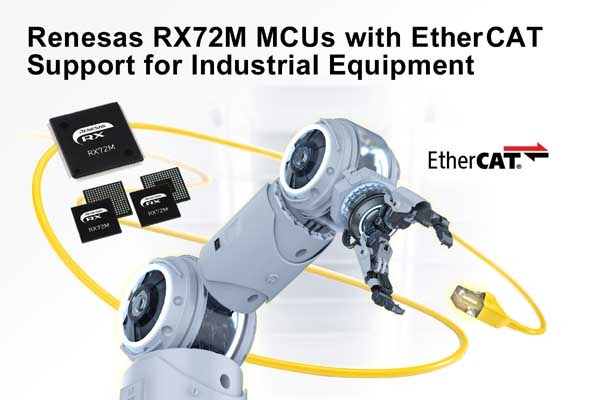 TOKYO, Japan ― Renesas introduced the RX72M Group of Rx microcontrollers featuring the EtherCAT slave controller for industrial ethernet communications. The new flagship product group for the Renessa RX family is a single-chip MCU solution with large memory capabilities for industrial equipment requiring control and communication functions such as a high performance, compact industrial robot, programmable logic controller, remote I / O, and industrial gateways.
The use of EtherCAT in industrial Ethernet is growing fast, and is currently used on dedicated MCUs, ICs, and high-end system-on-chip (SoC) devices specialized for EtherCAT communication. The new RX72M Group achieves the superior performance of a 1396 CoreMark score at 240MHz as measured by EEMBC Benchmarks, and it is capable of both application processing and EtherCAT communication. Combining a motor-control MCU with on-chip EtherCAT slave functions allows industrial application developers reduce their bill of materials (BOM) and support the miniaturization levels required for industrial equipment design.
"The RX72M Group offers revolutionary solutions for circuit board miniaturization, a key issue facing industrial robot designers as space constraints for boards continue to tighten," said Akira Denda, Vice President, Industrial Automation Business Division, Renesas Electronics Corporation. "Leveraging our extensive embedded design expertise as a leading global MCU supplier and solution provider for industrial networks, Renesas is pleased to introduce the RX72M devices, which allow approximately 50 percent reduction in circuit board area compared with earlier devices while maintaining high performance and EtherCAT support, offering customers an easy and flexible path to industrial equipment design."
The RX72M Group is the first RX MCU group to include an EtherCAT slave controller featuring the RX family's highest SRAM capacity – 1 MB of SRAM – and 4 MB of Flash memory. The large-capacity SRAM allows the MCUs to run multiple memory-intensive middleware systems, such as TCP/IP, web servers, and file systems, at high speed without the use of external memory. It also provides flexibility for the support of future functional expansions, such as OPC United Architecture (OPC UA) with no additional memory required. The on-board flash memory operates as two 2 MB banks, which enables stable operation of the end equipment, such as executing a program in one flash memory while simultaneously conducting background rewrites in the other flash memory.
Key features of the RX72M MCUs
The first EtherCAT slave controller for industrial Ethernet communication in an RX MCU
High performance with a CoreMark benchmark score of 1396 at up to 240 MHz, and the first embedded double precision floating point unit (FPU) in an RX MCU
High-speed flash memory system supporting readout up to 120 MHz, creating high-performance and low-variability execution environment
Dedicated trigonometric function (sin, cos, arctan and hypot functions) accelerators and register bank save function supporting high-precision motor control implementation – a feature shared with the Renesas RX72T motor-control MCUs
Reliable cryptography functions such as encryption module and memory protection function in hardware to protect encryption keys – this prevents application systems from being copied without authorization and supports authentication for genuine equipment
Flexible package options including 176-pin LQFP and 176-pin BGA configurations as well as the first 224-pin BGA package for RX MCUs, which offers additional space saving for size-constrained designs
Learn more at renesas.com.