New Delhi: July 19, 2019: SHARP, hosted Customer meet in New Delhi at The Grand Vasant Kunj. During the event, SHARP showcased its latest series of Multi-Functional Printers and 4K Ultra-HD Resolution Commercial LCD Display Line.
The main agenda of the Customer Meet was to have a hands-on experience of the product line-up at SHARP Experience Zone and how SHARP can add value based on the customer needs. More than 200 customers were a part of this exclusive meet. Representing SHARP were, Shinji Minatogawa, Managing Director, and Manu Paliwal, President – Business Solution Group, who addressed the attendees about the diversity of the products.
The products that were on display included SHARP's newest range of Multi-Functional Printers comprising of AI Voice Assist feature, Cloud Integration, with leading-edge security; MX-M5050, MX-4070V and MX-M7570. All these MFPs are designed to have unmatchable User Experience for Simply Better business. SHARP's easy-to-use 10.1 inch touchscreen display offers an intuitive graphical interface with Easy Copy and Easy Scan screens, as well as quick access to on-board user guides. These models also support popular mobile technologies, including Apple AirPrint, Android Print Service and Google Cloud Print.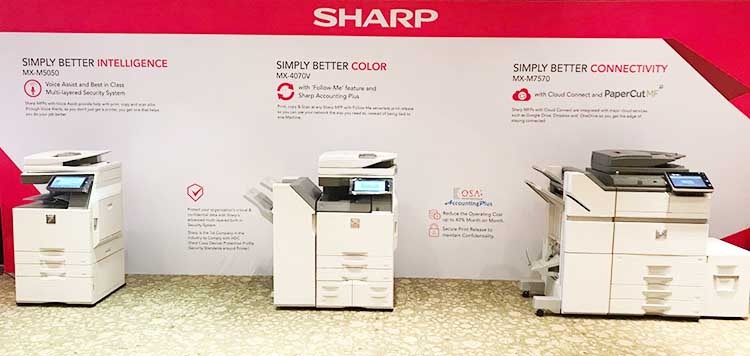 Besides the new line of MFPs, SHARP also showcased its award-wining 4K Ultra-HD Resolution Commercial LCD Display Line. The new line of display series include 43″ (PN-HW431), 55″ (PN-HW551), 65" (PN-HW651), 75" (PN-HW751) and 86″ (PN-HW861) commercial displays. A recipient of the InfoComm 2018 (US) Best of Show award from Sound and Video Contractor and for Tech & Learning. These displays exhibit true-to-life precision of 4K Ultra-HD resolutions that enable customers to see refined textures and finer details in photos and videos. These are Multi-touch display solutions that can be used for Meeting and Training, R&D, Experience Centers, etc.
Speaking at the meet, Shinji Minatogawa, Managing Director, SHARP Business Systems (India) Pvt. Ltd., said,  "We are proud to showcase our latest series of MFPs, built on a single-engine design that will empower businesses of every size to choose the performance."
"We are delighted to showcase the largest line of commercial 4K Ultra-HD displays. The extensive range of screen sizes ensure that our customers can now employ uniform technology and imagery in diverse locations and environments to suit individual business needs" added Minatogawa.
Manu Paliwal, President – Business Solution Group, SHARP Business Systems (India) Pvt. Ltd. said, "The new series of SHARP's MFP's has been designed to help businesses streamline their office workflow while providing an intuitive user experience, flexible integration and enhanced productivity with the highest level of data security."
"We are creating an experience of our state-of-the-art Office and Visual Solution Products to create customer connect." added Paliwal
For more information please visit https://www.sharpindia.co.in/