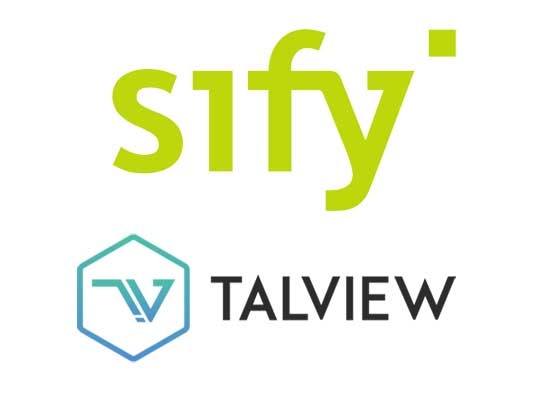 Chennai, India, July 1, 2020: Sify Technologies Limited announced their partnership with Talview, an AI enabled Talent Assessment technology provider, to integrate Remote Proctoring Solutions with its iTest platform. This integration with Talview's proctoring solution, Proview, will ensure authentic invigilation of online assessments held remotely.
Sify's iTest is a platform providing end-to-end admission, recruitment & assessment engine. iTest has the capability of providing a safe & secure testing environment in both LAN-based and internet-based settings. In just the last year, iTest has hosted approximately 4 million assessments online.
Talview's Proctoring Solution, Proview, will enable iTest with powerful features such as live and automated remote proctoring that uses AI-powered facial recognition to detect impersonation, browser policing, real-time alerts, activity log to inspect suspicious activities, and more.
"Outbreak of COVID-19 has given a definitive surge to the online examination software market and has increased the need for advanced proctoring solutions. Remote proctoring offers a series of advantages over traditional online examination method. Our iTest platform will come equipped with this AI based proctoring solution to ensure the quality and integrity of exams and candidates during remote examination. With this integration, iTest can now create a bio-metric record of the candidate, track their movements across multiple browser windows and for every session, and flag other suspicious activities like copy-paste in real time. The solution is designed to work in low bandwidth environment making it the perfect solution for the current situation," said Kamal Nath, Chief Executive Officer, Sify Technologies Limited.
With the integration of iTest and Proview, examiners can now benefit from various advanced features:
The AI-enabled online proctoring solution, available in automated mode monitors suspicious activity using advanced video and audio analytics. It ensures the candidate focuses only on the test screen; monitors the light and other factors in the room; checks for suspicious actions & objects and background voice activity; and watches the browser window to detect changes. Adding to the automated module is the Live remote proctored solution that deploys trained resources in conjunction with the automated proctoring to offer a solution that gives an exam body the confidence to deliver exams in a remote manner.
The exam administrator can also monitor the online test from their preferred locations. A detailed log of browser activity and audio-visual responses of the candidate is provided, and the AI sensors disable the candidates' facility to copy/paste answers. Real-time access restriction ensures the examiner can take action immediately if a candidate is using any fraudulent means. Real-time recording of users' actions facilitates secure and authentic online tests. The recorded streams can be stored and viewed for up-to six months.
The proctoring solution comes with advanced facial recognition features that ensures that the candidate is the original person taking the exam. Using an advanced algorithm in Machine Learning, it provides a confidence score to help ensure a match, and Two-Factor Authentication process that avoids fraudulent activity by quickly restricting test access.
Along with automated proctoring, facial recognition and live monitoring the solution also provides analytics on user behavior and user actions. It also offers browser patrolling and real-time communication via a ChatBot and configurable alerts to avoid fraudulent activities during tests.
Commenting on this partnership, Sanjoe Jose, CEO, Talview,said, "Sify is a pioneer in the online assessments market and we are glad to be partnering with a player who has in-depth knowledge of the existing demand. Our AI tools are built on the foundation of years of assessing candidates in a virtual environment. Our combined solution will help the target customers to administer secure exams at scale with best in class test-taker experience."
Key Benefits of Integration of iTest and Proview:
Live Monitoring
Automated Online Proctoring
Facial Recognition
Automated Analysis
Browser Patrolling
Access Restriction
Low Bandwidth Ready
Less Intrusive
Real Time Communication
Sify, www.sify.com, Sify Technologies and www.sifytechnologies.com are registered trademarks of Sify Technologies Limited.