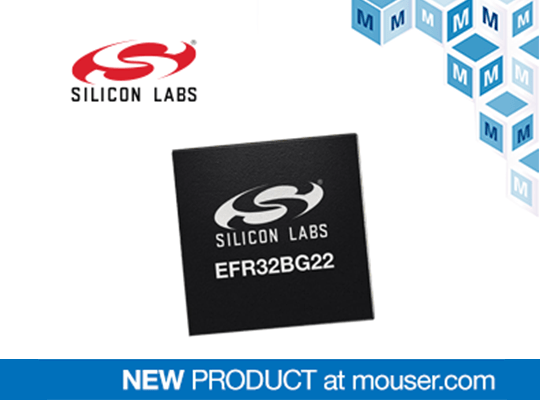 April 22, 2020 – Mouser Electronics, is now stocking the latest Wireless Gecko system-on-chip (SoC) families from Silicon Labs. The new SoCs are highly energy efficient, delivering exceptional battery life for a range of Internet of Things (IoT) applications.
The Silicon Labs EFR32BG22 (BG22) SoCs are single-chip solutions that support Bluetooth 5.2 connectivity, including Bluetooth Mesh, Bluetooth Low Energy, and direction-finding with sub-meter accuracy. The versatile SoCs are capable of extending coin cell battery life for up to ten years, making them an energy-friendly choice for consumer, commercial, and industrial IoT applications. The EFR32BG22 SoCs are based on a high-performance Arm Cortex-M33 core and offer ultra-low transmit and receive power.
The EFR32MG22 (MG22) family devices are the smallest, lowest power SoCs optimized for Zigbee Green Power applications. Combining a 76.8 MHz Arm Cortex-M33 core with a high-performance 2.4 GHz radio, the MG22 SoCs can support multiple IoT protocols. The energy-efficient SoCs are an ideal choice for Zigbee devices powered by coin cell batteries or energy-harvesting sources, including smart home sensors, lighting controls, and building and industrial automation.
The EFR32FG22 (FG22) SoCs enable energy-friendly proprietary protocol networking in power- and size-constrained IoT devices. The single-die devices feature a 38.4 MHz Arm Cortex-M33 processor and a 2.4 GHz radio with a receive sensitivity of -106.4 dBm. The FG22 SoCs boast advanced security features and a comprehensive suite of software tools and stacks, making them an ideal option for applications such as building security, electronic shelf labels, industrial automation sensors, and custom modules for commercial lighting.
As an authorized distributor, Mouser Electronics is focused on the rapid introduction of new products and technologies, giving customers an edge and helping speed time to market. Over 800 semiconductor and electronic component manufacturers count on Mouser to help them introduce their products into the global marketplace. Mouser's customers can expect 100% certified, genuine products that are fully traceable from each manufacturer.
With its broad product line and unsurpassed customer service, Mouser strives to empower innovation among design engineers and buyers by delivering advanced technologies. Mouser stocks the world's widest selection of the latest semiconductors and electronic components for the newest design projects. Mouser Electronics' website is continually updated and offers advanced search methods to help customers quickly locate inventory. Mouser.com also houses data sheets, supplier-specific reference designs, application notes, technical design information, and engineering tools.
For more information, visit www.mouser.com.