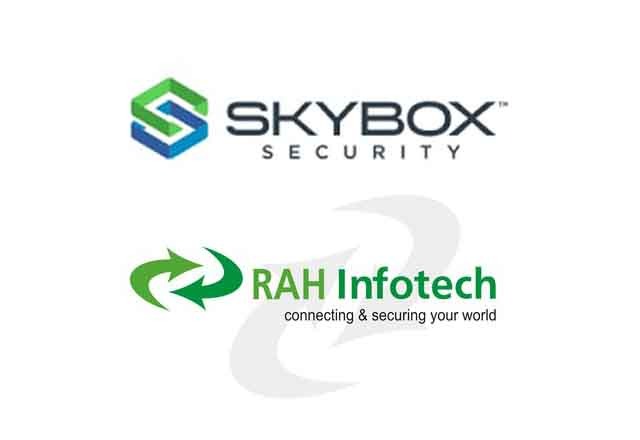 NEW DELHI, India. (October 23, 2018) — Skybox Security, a global leader in cybersecurity management; today announced that it has signed an agreement with RAH Infotech, India's fastest growing value-added technology distributors, to be the company's national distributor. The software company experienced 433 percent year-over-year growth in APAC for 2017 — including 350 percent growth in India.
With security initiatives becoming increasingly difficult to manage, CISOs are seeking solutions like Skybox's that are integrated and address multiple challenges. The Skybox Security Suite integrates with more than 120 networking and security technologies that companies are already using to provide the comprehensive attack surface visibility and intelligence in one solution, covering on-prem, multi-cloud and OT networks. The Suite also automates many core security processes in vulnerability and threat management, and firewall and security policy management, such as network path analysis, attack simulation and change management.
The Skybox APAC channel program enables value-added distributors (VADs), managed security service providers (MSSPs), resellers and system integrators to meet the needs of the market by deploying and offering services that leverage the Skybox Security Suite. By adding the Suite to their offerings, local partners can continue to serve as trusted cybersecurity advisors to India businesses.
Gerry Sillars, VP of APAC for Skybox Security

"We are excited to partner with RAH Infotech who have demonstrable knowledge of the India and SAARC marketplace with a great track record of execution for their vendor and reseller partners," said Gerry Sillars, VP of APAC for Skybox Security. "We're looking forward to working with them as we continueto focus on the expansion of our footprint in the region, as well as evolving the company's channel business. Our solution continues to be a proven differentiator for our distributors and resellers, and so we've been able to quickly grow our partner ecosystem in rapidly expanding markets like India and SAARC."
"The Skybox platform successfully serves a huge market need across the globe and now it will be more accessible to the Indian market. These are exciting times for us at RAH Infotech — to be partnering with Skybox," said Ashok Kumar, CEO, RAH Infotech. "As a VAD focused on adding value to our partners and customers, we are constantly studying and introducing new and advanced cutting-edge technologies in India which help our customers embrace digital transformation in an effective manner. Today with networks increasing exponentially in size and getting more complex, we need new and dynamic solutions that simplify and automate day-to-day cybersecurity workflows and processes. The solution that Skybox offers gives companies a single view to their hybrid networks — and a way to easily manage and quickly address risks."
For more information, please visit : www.skyboxsecurity.com