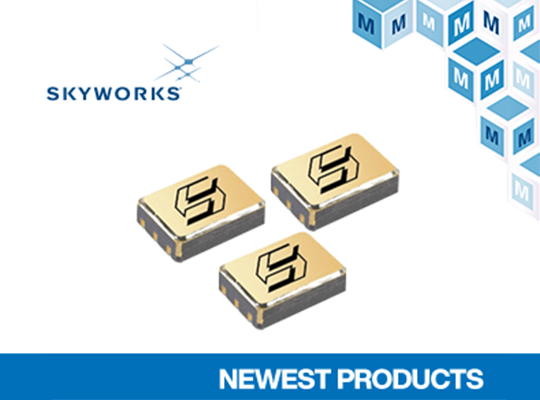 July 30, 2020 – Mouser Electronics the industry's leading New Product Introduction (NPI) distributor with the widest selection of semiconductors and electronic components, is now stocking the OLI300, OLS300, OLI500, and OLS500 high-speed optocouplers from Skyworks Solutions. The optocouplers feature 1500 VDC electrical isolation between the input and output, designed for applications such as avionics, biomedical materials, radar, space, surveillance systems, instrumentation, and military communications.
The OLI300 and OLS300 optocouplers are suitable for interfacing transistor-transistor logic (TTL) to low-power Schottky transistor-transistor logic (LSTTL). These optocouplers are also suitable for the complementary metal oxide semiconductor (CMOS) and wide bandwidth analog applications. The OLI300 and OLS300 optocouplers include an LED and an integrated photodiode transistor detector. The integrated photodiode transistor improves the switching speed (compared to standard phototransistors) by reducing the base-to-collector capacitance.

The OLI500 and OLS500 optocouplers are suitable for high-speed digital interfacing applications, elimination of ground loops, and input/output buffering. These optocouplers include an LED and an integrated high-speed detector. The LED light is collected by the photodiode in the integrated detector and amplified by a high-gain linear-amplifier that drives a Schottky-clamped open-collector output transistor. The typical propagation delay for the OLI500 and OLS500 optocouplers is 60ns. The internal shield improves common-mode transient immunity to 1000V/μs minimum.
As an authorized distributor, Mouser Electronics is focused on the rapid introduction of new products and technologies, giving customers an edge and helping speed time to market. Over 800 semiconductor and electronic component manufacturers count on Mouser to help them introduce their products into the global marketplace. Mouser's customers can expect 100% certified, genuine products that are fully traceable from each manufacturer.
For more information, please visit https://www.mouser.com/new/skyworks-solutions/skyworks-high-speed-optocouplers/.