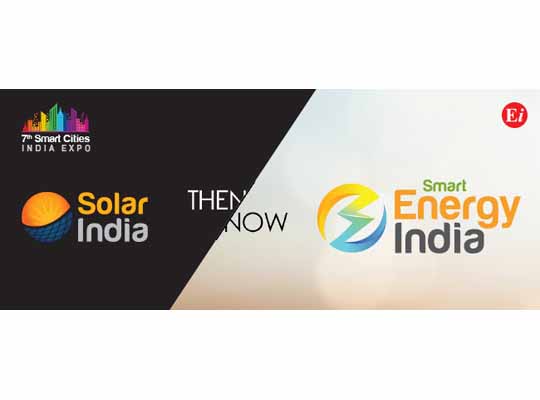 New Delhi- Since its inception in 2015, the Smart Cities India expo has evolved into the largest Expo & Conference on the subject in Asia. The expo integrates transformative technologies with the key pillars of urban development, i.e., Clean Energy, Green Buildings, Transport, HealthTech, Clean Environment and Water, with a view towards optimizing resources and making cities Smart and Sustainable.
The event is a carefully curated platform to enable deeper communication and a more practical approach to solving urban issues, and offers business opportunities for organisations working towards making smart cities a reality.
With a keen view to include more sustainable sources of energy, India's abundant potential for solar power, and the bold initiatives by the government towards renewable energy; Solar India expo has been diversified to include the entire green energy spectrum. The move is intended to underscore India's potential to emerge as a global new energy superpower. Having successfully connected India's fast-growing solar energy sector for six years, the Solar India expo is now the Smart Energy India expo.
Building a Digital & Smart India
With the aim of 'Building a Digital and Smart India,' the Smart Energy India 2022 expo aims to deliver better citizen services by showcasing the latest technologies in the smart energy domain, including Solar Energy, Natural Gas, Wind Energy, Fuel Cell, Solar & PV, Batteries & Storage, Smart Grid, Biomass, Thermal Power, Decarbonization, and much more. The Smart Energy India 2022 expo, co-located with the 7th Smart Cities India 2022 expo, integrates transformative technologies with the key pillars of Urban Development, all under one roof to optimizing resources and make cities smart and sustainable.
Unleashing the true power of cutting-edge technology verticals under one umbrella; the 3-day international trade Exhibition & Conference provides a valuable opportunity for industry leaders and influencers to discuss the latest trends and disruptions impacting various industry verticals. The expo welcomes industry veterans to join deliberations for accelerating nation building, unlocking growth, and exploring new business opportunities.
Sharing his experience, Mr. Romain Gourmet, Head of Global Sales, Solar Cleano, said, "During this fair (in March 2021), we were able to meet quality prospects. It was also an opportunity for us to showcase our products in a market full of opportunities. We hope now that our business will finally be able to develop in India."
Ms. Chandrika Behl, Managing Director, Exhibitions India Group, reasserts the expo's endeavour in making India a smart and sustainable economy, "The Indian energy sector is undergoing a massive transformation due to the adoption of energy efficiency, future of mobility, increased share of renewable energy and an overall shift in the global energy market. With Smart Energy becoming increasingly important, the Smart Energy India expo strives to showcase the entire gamut of the new energy ecosystem. Our carefully curated platform will act as a catalyst, leading to increased investments into smart energy systems."
The power of in-person networking
Scheduled to be held from 23-25 March 2022 at Pragati Maidan, New Delhi; India's largest technology and infrastructure event – the 29th Convergence India & 7th Smart Cities India 2022 expo, is organised by the Exhibitions India Group (EIG).
Convergence India is at the forefront of India's digital revolution, while Smart Cities India expo reflects India's emerging modernization and development landscape. The combination of these two leading expos, supporting India's Digital & Smart Cities Missions, is supported by various Government of India Ministries & PSUs. The event attracts a large turnout of qualified visitors & delegates from government departments and private organisations.
In 2021, the sheer power of in-person networking was on display at the 28th Convergence India & 6th Smart Cities India expo, which was successfully held from 25-26 March 2021 at Pragati Maidan, New Delhi.
There was 100% compliance with Covid protocols to ensure a safe networking experience, and we leveraged technology to ensure the participation of 575 brands from 27 countries (60 of whom participated virtually) and 230 speakers in 45 conference sessions – making it the most meaningful and largest technology and infrastructure expo in the country.
Nation building and the convergence of technologies go hand-in-hand today, and the expo provides a platform to showcase 'Brand India' and focuses on 'Building a Digital and Smart India.'
To know more, visit: www.smartcitiesindia.com / www.smartenergyindiaexpo.com