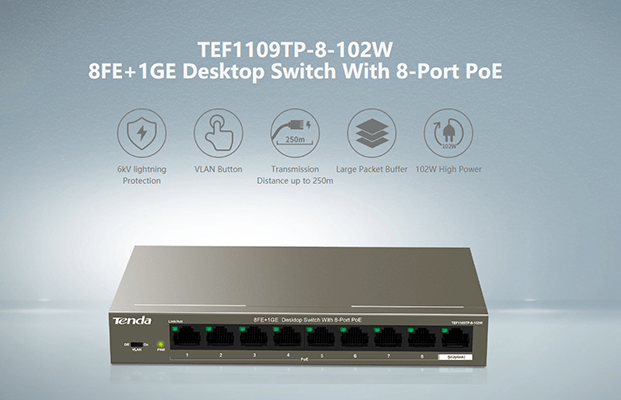 New Delhi, July 22, 2019: Tenda, launched TEF1109TP-8-102W, an 8FE+1GE Desktop Switch With 8-Port PoE. The TEF1109TP-8-102W is equipped with features specific to the surveillance market. It has been designed to ease the deployment and management of IP camera networks ranging from a few cameras to large, high-density environments.
What's Special for TEF1109TP-8-102W:

Gigabit Uplink Port To Guarantee the Transmission Smooth and Stable
It provides 8 10/100M RJ45 ports and 1 Gigabit port, Ports. By using CAT5e twisted pairs, it can provide power and data transmission to APs, IP cameras, IP phones, and so on, fully loaded.
Outstanding PoE Power Supply
Ports 1-8 support IEEE 802.3at and IEEE 802.3af PoE standard. It provides 30W maximum PoE output a single port and 92W the whole device.
Transmission Distance up to 250m
Equipped with the extension technology, data can be transmitted through 250 meters cable which would be a cost-effective replacement for extenders and optical fibers.
Excellent Lightning Protection
The switch supports 6kV lightning protection for uplink port and 4kV for power supply protection, protecting the switch from thunderstorms and making it more stable.
Simple Port VLAN Setup
With VLAN Mode on, ports 1 to 8 is isolated from each other, enabling the switch to isolate broadcast storm, improving LAN security and data transmission.
Commenting on the launch, Mr. John Dong, Director-Tenda India says, "TEF1109TP-8-102W is a great midrange PoE switch which has been designed to take care of all the surveillance requirements of both small and medium-sized businesses and homes."
Pricing and Availability:
The TEF1109TP-8-102W will be available on both online and offline platforms for the M.O.P. of 6000/-.
For more information find at : http://www.tendacn.com/in/default.html