4G and 5G will continue to co-exist for a long time to come and 4G would still account for more than half of all connections for the next few years, as consumers and businesses continue to use LTE, while service providers advance transition from 4G to 5G by bridging the two major networks. It is evident that 5G will dominate the mobile landscape in the future but then, 4G is not going away anytime soon.
Breaking vendor lock-in
While transition from 4G to 5G is a substantial shift, this coexistence creates a host of challenges and considerations and vendor lock-in is one of the key highlight. For telecom operators, proprietary technologies with little scope for manoeuvre did not meet their expectations, slowed innovation and caused higher operational expenditure.
By separating 5G functions and data, operators immediately gain more control, freeing them from the vendor lock-ins. The path telecom operators can choose is: either remain locked with their incumbent vendor for the foreseeable future or break-free from the shackles of vendor lock-in and get a neutral, open vendor and start leveraging best-of-breed functions for 5G. Operators will have the freedom to pick and choose individual components and gain the ability to differentiate and monetize service offerings.
Alongside 5G architecture, 4G networks will continue to operate requiring interworking between the systems to provide service for all types of subscribers. Most telecom operators have a 4G core from a major vendor that makes it almost impossible to deploy a different 5G SA solution. Service providers also may not find much help in 3GPP standards, which were late to define 4G-5G interworking.
In this scenario, Tier 1 operators are best positioned to break free. Due to their size and resources, they're in an advantage position to handle the challenges and risks of switching vendors. Their capacity and extent also gives them more power to command their incumbent vendors to co-operate.
The key considerations
Subscriber data management shows just how daunting interworking can be. During the 5G core build out, intelligent interworking with existing systems must include subscriber data. Otherwise, operators can't provide seamless service delivery both within their own networks and when customers are roaming.
In 3GPP Release 16, the home subscriber server (HSS) is replaced by unified data management (UDM). This change clarifies the core subscriber data management systems that must be reconciled for a successful network transformation. The process of breaking vendor lock-in applies to the HSS/UDM, as well as large parts of the core network due to dependencies on front-end modules and the unified data repository (UDR).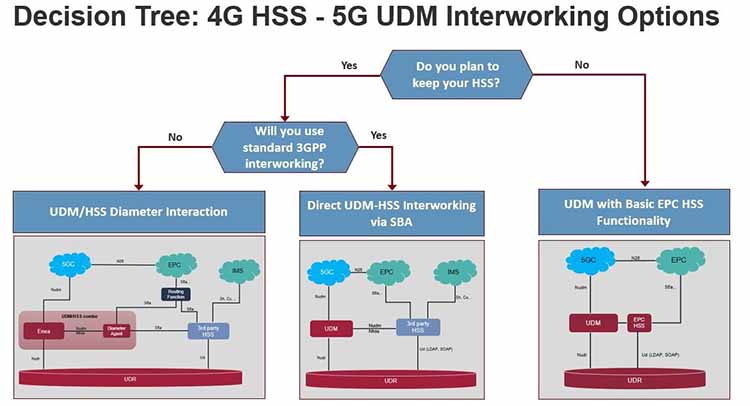 Cloud-native UDM technology provides a centralized way to control network user data designed specifically for 5G. There are three major options for enabling HSS-UDM interworking:
UDM-HSS interworking via a service-based architecture (SBA) requires changes to the legacy HSS but enables seamless interworking, including with 3G. It lets operators create a flexible new architecture by disaggregating legacy network elements. This is the best option for operators as it allows them to leverage the full potential of agile 5G architecture by managing various access technology networks with their own level of operations or administration. In other words, it helps them build a solution that evolves at its own pace while introducing disruptive edge services with shorter deployment time
UDM-HSS diameter interaction leaves the legacy HSS untouched. Instead, it uses diameter interfaces already available in the HSS, with the UDM acting as a gateway and sole access point to the 5G core and evolved packet core/IP multimedia subsystem (EPC/IMS). This option is a good fit for operators that want the benefits of a new 5G core and UDM, without changing the HSS.
UDM with basic EPC HSS functionality has the UDM support Nudm interfaces for 5G core procedures. It also introduces basic EPC HSS support with the S6a interface handling EPS procedures between the mobility management entity (MME) and HSS. This option is suitable for operators introducing 5G subscriber data without affecting or migrating legacy subscriber data already provisioned on a legacy HSS.
In a cloud-native 5G solution, applications must be allowed to be stateless and separated from the data processing. Separating application logic from data avoids both vendor lock-in and situations where large vendors maintain control over applications (and the network) by embedding data within their solution, often in a proprietary format. However, thanks to a cloud-native environment combined with REST API-based interfaces, it is now possible to separate data from applications by using an independent network data layer (NDL), including both the UDR and unstructured data storage function (UDSF) functionality.
Selecting the right partner
Although Enea provides both front ends and back ends for 5G, it supports interoperability with all major vendors. It's 5G product portfolio stores and manages data across all 5G core and edge functions, and supports multi-vendor 4G/5G interworking. The cloud-native suite spans the NDL and scales the control plane with critical 3GPP functions including the UDR, UDSF, AUSF, PCF, EIR and the UDM.
The UDM provides robust authentication for 4G/5G interworking to support all subscriber and device data. Along with full 3GPP compliance and implementation of the latest standards, it also provides:
Support for 1 to 10 billion data entries at a rate of 1 to 500,000 transactions per second
Efficient scaling and handles demanding network sizes and use cases
Seamless interworking options for operators
Zero-touch operation using self-management features and standard management tools
An ultra-powerful rules engine to differentiate 5G offerings, including DevOps for faster integration
The UDM is cloud-based and it can be combined with REST API-based interfaces to separate data from applications by using a NDL. The NDL enables a clear separation between the data layer, control plane and user plane, which creates unique flexibility. And it is this unprecedented level of agility that makes the Stratum NDL solution essential for 4G/5G interworking. The advantages: Eliminates lock-in by collapsing all vendor data silos into one common NDL, provides 100% ownership of schema and virtual schemas for application-specific data views, delivering 4G and 5G interface support with built-in protocol translation, shares data across network slices and ensures 99.9999% availability in the cloud, with configurable redundancy, dynamic scaling and self-healing.