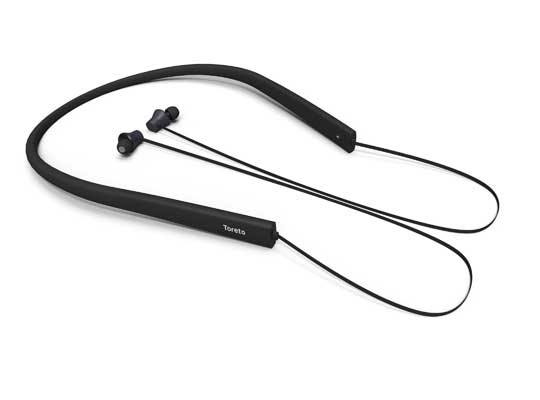 New Delhi, May 08, 2019: Toreto, a leading name in the innovative and portable digital product market, is all set to introduce brand new stylish Bluetooth wireless earphones for the Indian market. A sequel to its already successfully running wireless Bluetooth headsets Toreto Blare now comes Toreto Blare Pro with upgraded features. An upgrade to the previous version, Toreto Blare Pro equipped with surround sound allows you to get your daily dose of music while jogging, cooking or driving, gets connected easily with any phone without the hassle of wires.
These Bluetooth enabled headsets formulate the perfect combination of style and technology; promise to provide the best musical experience due to its remarkable surround sound. Blare Pro lets you enjoy 7 hours of uninterrupted music, while at work, commuting or even while a sweaty workout.  Furthermore, it even lets you pair two mobile phones at once and lets you browse through Google on your device directly via an inbuilt microphone in the headsets.  The voice button further helps you make calls as well; name the person you want to talk to and your call will be connected.
Designed to fit comfortably and securely on your ears, Blare Pro also comes with magnetic earbuds such that when not in use the earbuds stay together and do not fall off.  Works equally well from distance as far as 10m these headsets have remarkable connectivity and connect to all kinds of smartphones, tablets and laptops promising the perfect 'Me Time'.
Toreto Blare Pro Features:
Remarkable Sound: Blare Pro promises unrivaled performance, due to the amazing surround sound it offers. An unmatched combination of comfort and stability, Blare Pro works well even from the distance of 10m.
Magnetic earbuds: While not using the headsets, you can easily snap the earbuds' magnetic parts together making sure they don't fall off. They are designed to fit around your ear comfortably and securely.
Long battery backup: With 160 mAh of battery power and 2.5 hours of charging time, you can listen to your favourite songs for 7 hours continuously, without any interruption. Blare Pro headsets also have 120 hours of standby time along with 8 hours of talk time.
Universal compatibility: Blare Pro headsets are compatible with all kinds of smartphones, tablets and laptops.
Sweat Proof: Blare Pro headsets promise unmatched performance even during your hardest workouts sessions because of them being excessively sweat proof.
Intelligent voice button: Blare Pro has an inbuilt Google assistance microphone, which lets you browse through the internet using voice commands, sparing you the need to hold your phone while searching online. The voice button further helps you make calls as well; name the person you want to talk to and your call will be connected.
Stylish Packaging: The attractive package contains Blare Pro headsets, USB charging cable, two pairs of earbuds, a headset pouch and a one-year warranty card.
Pricing and Availability: Toreto Blare Pro is available in 2 colors; Black and Blue at an introductory price of INR 2,999/- at all the retail stores and also on all leading e-commerce platforms across India. These headphones come with a one-year warranty.
For more information, kindly visit www.toreto.in