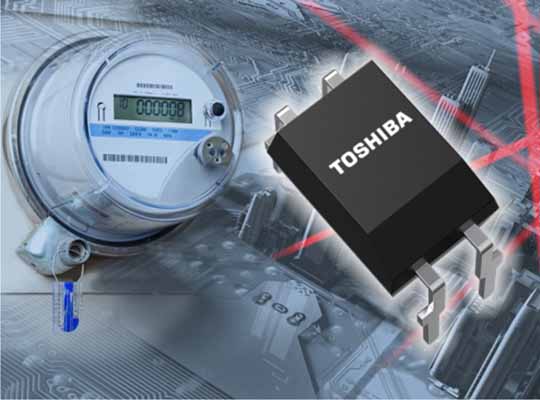 Kawasaki, Japan : Toshiba Electronic Devices and Storage Corporation ("Toshiba") has introduced two photorelays, " TLP223GA " and " TLP223J ". Both these products are equipped with off-state output terminal voltage ratings of 400 V and 600 V respectively. Both feature low input power, superior switching characteristics, and are packaged in a DIP4 package. The shipment of goods starts from today.
This press release features multimedia. View the full release at this link: https://www.businesswire.com/news/home/20220117005132/en/
This new product comes with a high luminous efficiency LED developed by Toshiba and has a maximum trigger current of 2mA. This is about 33% less than the existing product [1] and features lower input power.
Faster operation is protected by fewer switching characteristics (turn-on time, turn-off time): 50% [2] for TLP223GA and 75% [2] for TLP223J.
Their maximum operating temperature rating has been increased from 85 0 centigrade to 110 0 centigrade. Because of this, they are suitable for use in outdoor equipment, such as smart meters. The maximum isolation voltage of 5000Vrms allows their use in equipment that requires high isolation performance.
Note:
[1] Existing Products: TLP240GA, TLP240J
[2] Comparison of maximum turn-on and turn-off time with the above mentioned existing products.
Experiment
smart meter
Security systems (PIR [3] etc.)
Industrial equipment (programmable logic controllers, I/O interfaces, various sensor controls, etc.)
construction automation systems
mechanical release replacement
[3] PIR (Passive Infrared Ray) : Passive sensor, which detects human access by changes in infrared radiation.
Features
Low Input Power : I FT =2mA (max), V F =1.5V (max)
High-Input Operations:
t ON =1ms (max) (TLP223Ga)
t ON =0.5ms (max) (TLP223J)
High operating temperature rating : Topr (max)=110°C
High isolation voltage : BV S =5000Vrms (min)
Key Specifications
(@T a =25°C)
part number
TLP223GA
TLP223J
package
DIP4
net max rating
Output terminal voltage V OFF (V) in OFF state
400
600
On State Current I ON (mA)
120
90
On State Current (pulsed) I ONP (A)
360
270
Operating temperature T opr (°C)
-40 to 110
electrical characteristics
Input forward voltage V F max (V)
1.5
coupled electrical characteristics
Trigger LED current I FT max (mA)
2
ON state resistance R ON typ. (e)
17
30
@I ON (mA) [4]
120
90
ON state resistance R ON max (Ω)
28
40
@I ON (mA) [4]
120
90
Switching Characteristics
Turn-on time t ON max (ms)
1.0
0.5
Turn-off time t OFF max (ms)
0.5
0.2
isolation characteristics
Isolation Voltage BV S min (Vrms)
5000
Sample checking and availability
buy online
buy online
[4] t<1s
Find out more about the new product at the following links:
TLP223GA
TLP223J
Follow this link for more information on Toshiba Optical Semiconductor Devices:
Isolators/Solid State Relays
For information on availability of new products with online distributors, visit the following links:
TLP223GA
TLP223J