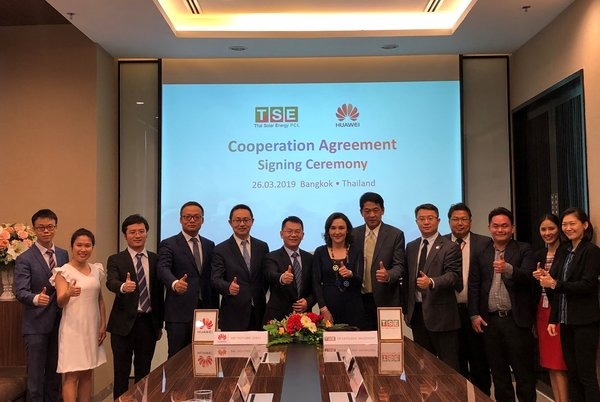 BANGKOK, Thailand, March 29, 2019 – Thai Solar Energy Public Company Limited ("TSE"), the leading renewable energy company in Southeast Asia, and Huawei joint announced the signing of a cooperation agreement in Bangkok, Thailand on March 26, 2019. This agreement is to purchase the Huawei 1500V Smart PV Solution for an installed power generation capacity of over 150MW Onikoube Solar Farm in Miyagi Prefecture, Japan.
The signing ceremony marks the start of a comprehensive cooperation between TSE and Huawei on utility scale PV plants in Asia Pacific. A number of senior executives from both sides attended the signing ceremony, including Cathleen Maleenont Ed. D., CEO of TSE, Mr. Somphop Prompanapitak, COO of TSE, Mr. Taoyuan Zhou, President of Huawei Network Energy, Mr. Tony Xu, President of Huawei Smart PV Business, Mr. Mark Meng, Head of Huawei Thailand Enterprise Business Group and Mr. Bruce Li, General Manager of Huawei Smart PV Business APAC.
TSE is one of the most influential PV plant operators in Southeast Asia, focusing on the development and investment of utility scale PV plants for decades. The collaboration between TSE and Huawei started from July, 2014 on a pilot project. After several years' stable operation, the executives from TSE highly recognize the value of Huawei FusionSolar Smart PV Solution and willingly partner with Huawei to produce clean energy to fulfill the growing demands in Asia Pacific.
As a leading global ICT ("Information and Communication Technology") and network energy solutions provider, Huawei innovatively integrates digital information technologies such as AI ("Artificial Intelligence"), IoT ("Internet of Things"), big data, and cloud computing, with PV technology, to promote industry-leading smart PV solutions. For the installed power generation capacity of over 150 MW PV plant, Huawei will provide the industry-leading 1500V Smart PV Solution with Smart I-V Curve Diagnosis, which combined the AI algorithm will highly improve the O&M ("Operation and Maintenance") efficiency and reduce the operating cost. The AI-aided 1500V FusionSolar Smart PV Solution will continuously reduce LCOE ("Levelized cost of electricity") and accelerate the grid parity process in Asia Pacific.