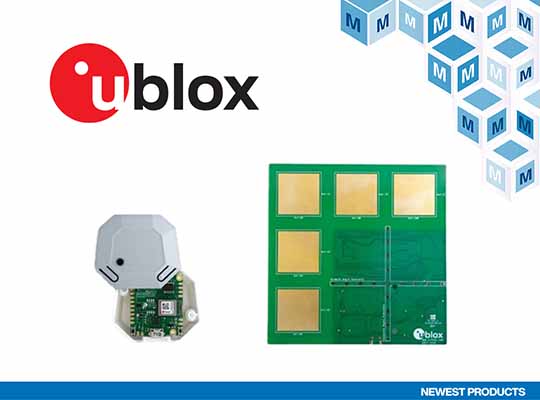 Mouser Electronics, Inc., the authorized global distributor with the newest semiconductors and electronic components, is now stocking the XPLR-AOA-1 Explorer Kit from u-blox. The new kit makes it easy to evaluate the potential of Bluetooth 5.1 direction finding and high-precision indoor positioning to enable applications such as access control, collision detection, smart appliances, and asset tracking.
The u-blox XPLR-AOA-1 Explorer Kit, available from Mouser Electronics, an antenna board with a u-blox NINA-B411 Bluetooth Low Energy module, transmitter tag with NINA-B406 Bluetooth Low Energy module, and u-connectLocate direction-finding software. The software runs directly on the NINA-B411 module's embedded Nordic Semiconductor nRF52833 system-on-chip (SoC), calculating the angle-of-arrival (AoA) of the incoming signals with no additional processing required.
Engineers can create a full positioning system by combining several XPLR-AOA-1 kits and triangulating the directions from three or more antenna boards. Applications include detecting whether a person or an object is approaching a door, avoiding collisions between moving objects, and directing a camera at a moving tag.
As a global authorized distributor, Mouser offers the world's widest selection of the newest semiconductors and electronic components — in stock and ready to ship. Mouser's customers can expect 100% certified, genuine products that are fully traceable from each of its manufacturer partners. To help speed customers' designs, Mouser's website hosts an extensive library of technical resources, including a Technical Resource Center, along with product data sheets, supplier-specific reference designs, application notes, technical design information, engineering tools and other helpful information. Engineers can stay abreast of today's exciting product, technology and application news through Mouser's complimentary e-newsletter. Mouser's email news and reference subscriptions are customizable to the unique and changing project needs of customers and subscribers. No other distributor gives engineers this much customization and control over the information they receive.