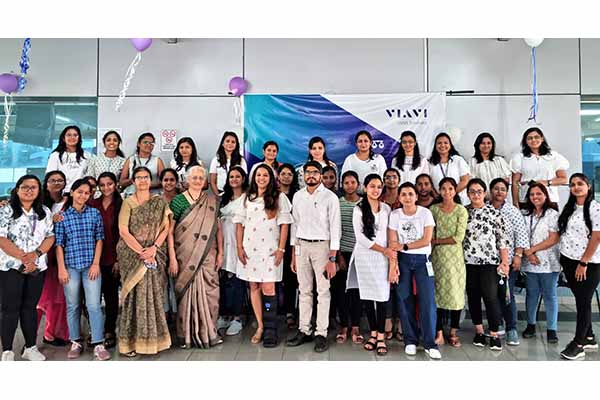 Bangalore– VIAVI Solutions continues to empower women through its Environmental, Social, and Governance (ESG) initiatives. It has demonstrated its commitment to creating a culture of diversity, equity and community engagement. In its endeavour of inclusion and social integrity, on the occasion of International Women's Day on March 10, 2023, VIAVI India in partnership with NGOs for communities. Moreover, it held interactive and engaging sessions across its offices in Pune, Mumbai, Bangalore and Gurgaon, celebrating women empowerment.
VIAVI is a global leader in technology for 5G, Fiber and Cloud Networks. It serves the top network operators and equipment manufacturers around the world. As part of its commitment to advance innovation and society as a whole, the company is committed to create opportunities for women throughout its workforce. VIAVI's Pune development center joined forces with Bhagini Nivedita Pratishthan, a non-profit organization working for the welfare of young women. The NGO is supporting their education & career development. Further, Mai Bal Bhavan, a NGO dedicated to empower visually challenged girls. This NGO supports their health, education and livelihood training, providing them a life of dignity and confidence. Meanwhile, VIAVI invited girl students from marginalized communities to Pune office and celebrated International Women's Day.
Further, promising to work towards an inclusive future and a more equitable society, the ESG priority for VIAVI is to bring social change. Moreover, it is commited to work in the area of education and employability for girl students coming from underprivileged backgrounds. As part of the Women's Day celebrations, the VIAVI India team thoughtfully organised numerous activities. Further, they were focused on learning, career counselling, skill development, empowerment and entertainment.