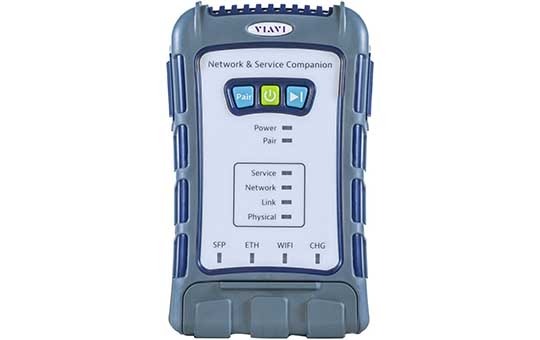 Bangalore – September 11, 2019 – Viavi Solutions today announced the launch of the NSC-100, the first in a new class of field test instruments called the Network & Service Companion. The NSC-100 integrates passive optical network (PON), Ethernet and Wi-Fi test capabilities together with the automated test process known as VIAVI OneCheck. This compact, rugged device was designed to address demand from service providers for intuitive instruments that frontline technicians and contractors of any skill level can pick up and begin using to speed residential, small business and enterprise Ethernet network deployment and maintenance up to 10G.
The pace of broadband network deployment continues to increase worldwide, with the VIAVI Gigabit Monitor showing gigabit Internet penetration growing by approximately 60 million people from 2018 to 2019. Of those connections, 88 percent are based on fiber to the premises (FTTP), and further extensions into the premises via Wi-Fi or Ethernet are common. Field technicians are therefore expected to validate or troubleshoot multiple types of networks and services. The challenge for techs and contractors has always been how to validate the network plus the service distribution – whether residential or business – quickly, comprehensively and correctly, thus reducing turn up time, return visits and operational expense.
Designed to validate current and future gigabit services, the compact, handheld Network & Service Companion tests both network delivery and service performance. As networks converge and field workforces are consolidated, the NSC-100 fits the need to test a range of network environments such as PON (for FTTH and 5G xHaul), DOCSIS 3.1 (cable), xDSL and Gfast (telco), and Ethernet (enterprise, data center and metro). It features a robust, field-ready screenless design and is operated directly via the VIAVI Mobile Tech app, or paired with other VIAVI test instruments to expand their capabilities. Instruments that can be paired with the NSC-100 include the OneExpert CATV and DSL analysis platforms, SmartOTDR, T-BERD/MTS-2000 and 4000 fiber testers, T-BERD/MTS-5800 Metro network tester and NITRO vNet Fusion virtual test and activation.
The Network & Service Companion uses the VIAVI OneCheck automated test process to ensure a technician completes all necessary tests while on site. Further optimizing workflow and reporting, the NSC-100 is supported by StrataSync, a hosted, cloud-based solution that provides asset, configuration, and test data management for VIAVI instruments and ensures all instruments have the latest software and options installed.
"VIAVI has helped the world's leading communication service providers to deploy all the major network technologies, and we are deeply aligned on their technical and their operational requirements," said Kevin Oliver, Vice President and General Manager, Converged Instruments and Virtual Test, VIAVI. "Efficiency is the watchword of the Network & Service Companion. We designed it so a technician can pinpoint service performance issues in under a minute, and close out tickets on the first visit, optimizing time, expense and subscriber satisfaction, even as networks and services get ever more complex."
For more information visit at www.viavisolutions.com.