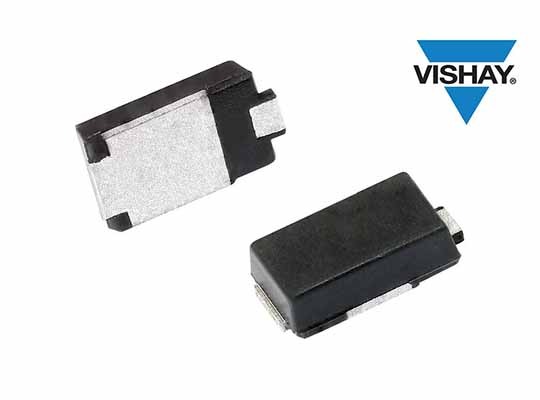 MALVERN, Pa. — Jan. 23, 2020 — Vishay Intertechnology expanded its offering of surface-mount TMBS Trench MOS Barrier Schottky rectifiers with 16 new 2 A and 3 A devices in the eSMP series low profile SMP (DO-220AA) package. The Vishay General Semiconductor rectifiers feature a wide range of reverse voltages from 45 V to 200 V, while their 3 A rating is the industry's highest for the SMP package to increase power density.
With their forward voltage drop down to 0.36 V for 2 A and 0.37 V for 3 A devices, the rectifiers released today reduce power loss and improve efficiency in high frequency inverters, DC/DC converters, and freewheeling and polarity protection diodes for commercial and industrial applications. The devices are also available in AEC-Q101 qualified versions for automotive applications.
The new rectifiers feature a maximum operating junction temperature up to +175 °C and an MSL moisture sensitivity level of 1, per J-STD-020, LF maximum peak of +260 °C. The devices are RoHS-compliant and halogen-free.
Samples and production quantities of the new TMBS rectifiers are available now, with lead times of eight weeks for larger orders.
For more information, please visit at: www.vishay.com.