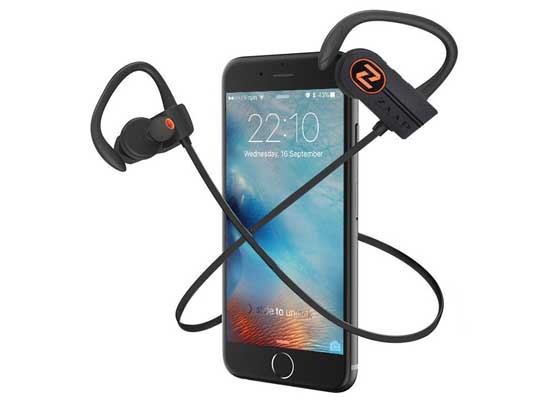 New Delhi, April 15, 2019: ZAAP, a market leader that has revolutionized customer experience with its lifestyle-driven design and innovative technology has introduced its first Bluetooth Headphone Aqua- Xtreme in India.
Aqua-Xtreme comes with the latest IP-X7 rating and NANO-X Coating that provides superior protection over older IP-X4 rated headphones. This makes the headphone perfect for intensive workouts and other activities. It also includes CSR Chipset and Apt-X Tech with CVC 6.0 Noise Cancellation Technology for unhindered perfect sound delivery.
The headphone comes with an inbuilt 90mAh rechargeable lithium-ion battery which can provide an impressive 9 hour of playtime and 250 hours of Standby time at a single charge; the headphone also comes with an in-built high-quality microphone for hands-free calling. The stable, ergonomic, behind-the-ear design offers a comfortable fit ensuring they stay in place when you're up, active, and running around the track; the Aqua Xtreme also comes with a scratch-proof special rubber coating.
The true wireless headphone comes with Bluetooth 4.1 version and also supports Multi-Device Connectivity. One can connect more than one device to the headphone simultaneously. With its wireless Bluetooth connectivity, one can effortlessly pair the device with their Smartphone without any hassle of tangled wires.
The headphone is also equipped with one touch Multi-Functional Button (MFB) which assists one to execute the device with a single button to switch the Power on and off, Answering a call, Ending a call and Rejecting a call, etc.
Aqua-Xtreme offers noise cancellation with superior quality and are water resistant and splash proof. They also come with two extra pairs of ear cushion.
Pricing and Availability:
The  ZAAP Aqua-Xtreme Bluetooth Headphone is available on leading e-commerce platforms like Amazon, Snapdeal, Zaaptech.com &  retail stores at a striking price point of INR 2,949/-
For more information, kindly visit www.zaaptech.com