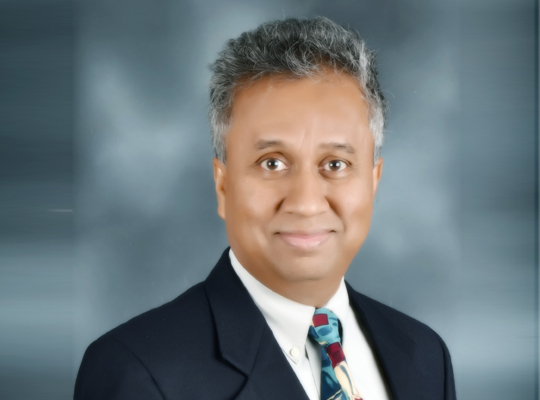 Krishnan Shrinivasan is the Vice President, Deputy General Manager (Managing Director) at Lam Research India. In this role, he is responsible for leveraging Lam's capabilities in India in support of its strategic objectives, and for driving the organization through another phase of growth.
In the exclusive interview Krishnan Shrinivasan explain, how 3D NAND has become a widely adopted technology.
TimesTech – What are your key focus areas in terms of innovation and digitalization?
Ans – There are tremendous opportunities to leverage the power of technology in enriching people's lives and at Lam Research, our focus has been on various technological inflections, one of the most familiar being the 3D NAND.
To visualize the concept of 3D NAND, let's look closer at the analogy of skyscrapers. Similar to a building with multiple floors, 3D NAND utilizes layers of semiconducting material stacked on a wafer. Each layer is filled with "rooms" and in the case of 3D NAND memory cells. In recent years, 3D NAND has become a widely adopted technology where transistors are deposited in vertical stacks instead of on a planar layer resulting in an increase in the storage density of flash memory chips that are part of our mobile phones, pen drives, etc. This allows us to offer enhanced data storage capacity to our customers with every successive generation of mobile phones.
As every segment of the semiconductor industry advances in technical complexity, Lam Research continues to provide its customers with advanced processing technologies and materials that are used in building these intricate and complex structures.
To address the gradual shrinkage in the geometry of chips and to ensure that new kinds of materials can be used in chips, Lam Research has pioneered innovative chemical processing technologies that can adapt to these new materials, be it a conducting layer or a new insulating material.
As emerging technologies continue to make their way into the semiconductor industry, our customers have adopted extreme UV (EUV) lithography, a leading-edge form of lithography, where light of a reduced wavelength is used to print smaller patterns for semiconductor devices. Lam is now transforming this segment of the industry by providing dry photoresist deposition and dry photoresist development technology that can make the EUV lithography process more efficient for our customers. In all the areas discussed here, Lam India has played an integral part in driving innovation in the semiconductor space that in turn has led to increased digitalization of the world economy.
TimesTech – How do you see the past 20 years in the Indian industry and what are your key milestones?
Ans – We have a long legacy spanning 40 years of equipment manufacturing in the semiconductor industry. We initially began as a software engineering company in Bangalore and our first office in India was set up in 2001. Later in 2007-08, we started hardware engineering in the country. This year, we are celebrating 20 years of operations in India – a monumental milestone we are extremely proud of. Since Lam's inception, we have been committed to India and have made several investments to supports its growth.
India's growing economy is its backbone, supported by a secure tech ecosystem and the pace of digital adoption. In the last 20 years, India has leapfrogged into becoming an IT and R&D powerhouse. Many large multinational and Indian companies provide the world with technical solutions and products from India that are commonly used across the globe. The ability of Indian engineers and technologists to integrate into global supply and manufacturing chains and to remotely engage with their counterparts all over the world is due to advanced communication and computation technologies. These advanced technologies are undergirded by the semiconductor industry and its relentless pace of innovation.
The semiconductor industry has continued to make technological improvements, where Lam plays an integral part in its progress. We provide customers with innovative technology that allows them to make increasingly more complex semiconductor devices. Lam is known for its product technology and thereby gaining the trust of its customers by helping them solve their most challenging problems. Being able to say that nearly every advanced chip is built with Lam technology has been one of our greatest milestones.
TimesTech – What is your take on the Semiconductor industry and its growth in India?
Ans – The dependency of the global economy on technology is greater than ever today which has given rise to sustained demand for semiconductors. With India's focus on building the country as a global manufacturing hub, electronics manufacturing will become an essential pillar of such ambition. Electronics and semiconductors have continued to penetrate a variety of industries including those related to automotive, aerospace, defense and space. Ultimately, trends such as availability of skills, consumption patterns, and strong technical education systems will be the driving force behind the growth of the semiconductor industry in India.
Many will be surprised to know that India had one of the first semiconductor fabs amongst various Asian nations. The Chandigarh fab was a result of those early semiconductor manufacturing efforts in the country. Given the country's focus on being self-reliant, it is imperative for India to build a robust semiconductor manufacturing ecosystem by deploying its existing strengths. The biggest evidence of India's capability to absorb complex semiconductor technology is its success in becoming a major hub of R&D centers for all major semiconductor manufacturers.
India's ascent up the value chain in terms of electronics manufacturing is also imminent. The journey could encompass a move from assembly to manufacturing circuit boards, and then to manufacturing components – either way, it is only a matter of time before India becomes an attractive destination for large international players to set up shop here.
TimesTech – How is Lam Research managing remote operations yet higher productivity?
Ans – At Lam Research, our culture is our greatest pride. Characterized by teamwork, cooperation, flexibility, transparency, and open communication, we have worked hard to instill these values across all levels in our organization. The COVID-19 pandemic raised many questions about how companies would manage remote operations and team collaboration. However, at Lam, our work culture and values have benefitted us greatly in coming together to function as a cohesive unit.
Our workforce has managed to successfully apply our core values during the new normal of work from home (WFH) in order to ensure collaboration and teamwork across levels. Like the rest of the world, our employees have also had to balance work and life and overcome hurdles that have been a part and parcel of the WFH culture. Further, to support our employees, Lam has implemented various employee wellness initiatives that allow our teams to balance home and work life during these uncertain times.
As most of our employees continue to work from home, the confidence in their productivity has grown as well. Fortunately, the data network infrastructure provided by India's telecommunication companies exceeded our expectations in terms of stability and efficiency and has been instrumental in ensuring smooth remote operations. Despite the pivot to online and remote modes of working and the various challenges it brought on, I am proud to share that our productivity, overall contribution, and adherence to deadlines have not been affected.
Some form of remote work is bound to persist long even after the pandemic is conquered. At Lam, we will continue to make sure that we support the emerging needs of our customers across the world, keep people safe, and ensure that they can continue to contribute professionally from their homes.
TimesTech – Where do you see Lam in the upcoming years?
Ans – From a Lam India viewpoint, operations will continue to grow, both in terms of the capability of our people and contributions to solving complex problems for our customers. Currently, we are reviewing infrastructure investments that will help us bolster our engineering operations. With a focus on building a stronger capacity in the next few years, we are also looking to add to our existing manpower.