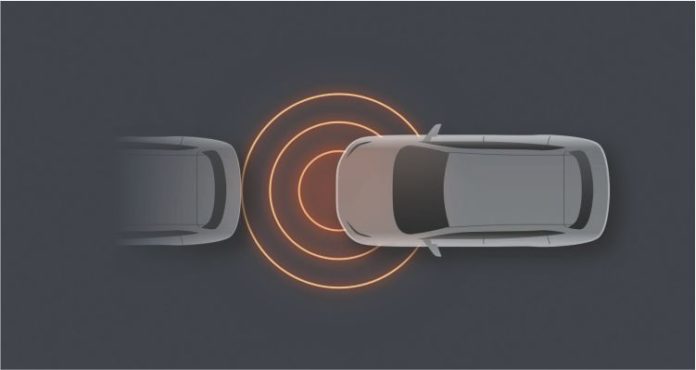 ADAS is changing the automotive sector and technology at par. ADAS has been lately evolving and bringing new scopes and possibilities for semiconductor players. The growing demand for improved vehicle safety is driving rapid innovation in active safety and ADAS among vehicle manufacturers. This growth has been enabled by improvements in information and communications technologies, as well as sensor technology to enable the car to have a greater awareness of its surroundings. Conventional ADAS technology can detect some objects, do basic classification, alert the drivers of hazardous road conditions and, in some cases, slow or stop the vehicle.
This level of ADAS is great for applications like blind spot monitoring, lane-keep assistance and forward collision warning. The first semiconductor-based noteworthy assistance was GPS-based car navigation systems toward the end of ´80s.
The paramount goal of ADAS is to assist the driver with the safety aspects – for himself and equally so for other mobile and pedestrian traffic participants. Next to this, ADAS is supposed to enhance the driving comfort for the driver and finally, yet importantly, improve the economic as well as the environmental balance.
Rise in traffic congestion and long-distance traveling are some key factors that have led to an increase in the time spent in vehicles. This has led to a demand for the incorporation of safety functions such as ADAS in passenger cars to assist drivers. Advance Driver Assistance Systems (ADAS) are not only helpful for private car owners, but also helpful for different kinds of vehicle fleets such as trucking fleets, delivery fleets, taxi cab fleets, commercial fleets etc.
Impact of ADAS
Growing emphasis on automotive safety among customers is one of the critical factors leading to the growth of global automotive ADAS aftermarket. ADAS reduces vehicle crashes and fatalities caused due to factors such as drowsiness, loss of concentration, and fatigue among drivers. As a result, the demand for several ADAS technologies such as backup cameras, BSD, LDWS, and FCWS is increasing, particularly, as an aftermarket automotive fitment. Furthermore, the demand for customized products from consumers is also encouraging manufacturers to offer tailor-made ADAS aftermarket solutions, which will further drive market growth during the forecast period.
Consumers from remote regions can easily access e-commerce platforms to make online purchases of aftermarket ADAS. E-retailing in the automotive aftermarket further allows buyers to compare prices of automotive products from different brands and make informed purchase decisions. The availability of online platforms has also encouraged vendors to increase their product visibility by offering their aftermarket ADAS products on popular e-commerce portals. Other manufacturers such as Brandmotion and Garmin have their dedicated online portals, which allow customers to purchase their products directly from the vendor.
"Stringent regulations to promote the adoption of ADAS and development of aftermarket ADAS for commercial vehicles will boost the market growth during the forecast period," says a senior analyst at Technavio.
V2X Communications with ADAS
The automotive industry has been witnessing quick developments in semi-autonomous and autonomous vehicle technologies. For instance, the advent of 5G technology is anticipated to boost the adoption of cellular V2X during the forecast period. Also, prominent vendors are working on integrating V2X communication with ADAS as a part of advanced safety solutions to make modern cars safe and more convenient to drive in remote areas. Furthermore, V2X communication also helps ADAS in detecting objects precisely. Thus, the adoption of V2X will play a significant role in enhancing the performance of ADAS, which will further drive market growth during the forecast period.
Delivering ADAS designs capable of addressing these problems requires a broad combination of features and capabilities built on advances in diverse technologies. For developers, the future of ADAS lies in five key trends: embedded vision, sensors, connectivity, automotive systems infrastructure and automotive human machine interface (HMI) design.
Lane Departure Warning Systems
Lane Departure Warning Systems help drivers to keep their vehicles in its lane and help in reducing on-road collisions. These systems generate audio-visual alerts if the vehicle starts deviating from its lane. Lane departure warning systems use a small camera mounted near the rearview mirror to recognize the striped and solid lane markings. When the vehicle starts deviating from the lane without an appropriate turn signal, this system triggers an alarm to react to.
Forward Collision Warning Systems
Forward Collision warning systems are in-vehicle electronic systems that notify the drivers in case of forward collision with any other vehicle or object in the roadway. Latest collision warning systems work on radar, laser and camera systems and generate audio, visual and tactical alerts in case of any possibility of collisions. These systems measure the distance, angular direction and relative speed between the two vehicles. Some of the forward collision warning systems are integrated with the adaptive cruise control systems to slow down the vehicle speed when any vehicle is detected in front.
Traffic Sign Recognition System
Missing out any traffic sign can be a cause of a serious road accident. The real-time traffic sign recognition (TSR) systems not only help drivers to follow the traffic signals, but help them follow the traffic rules. Traffic sign recognition systems in a vehicle are equipped with forward-facing cameras to detect the on-road signs. Real-time feeds from the front cameras with image processing, computer vision and image recognition algorithms help this system to recognize the traffic signs and display on the infotainment system to be addressed by the driver.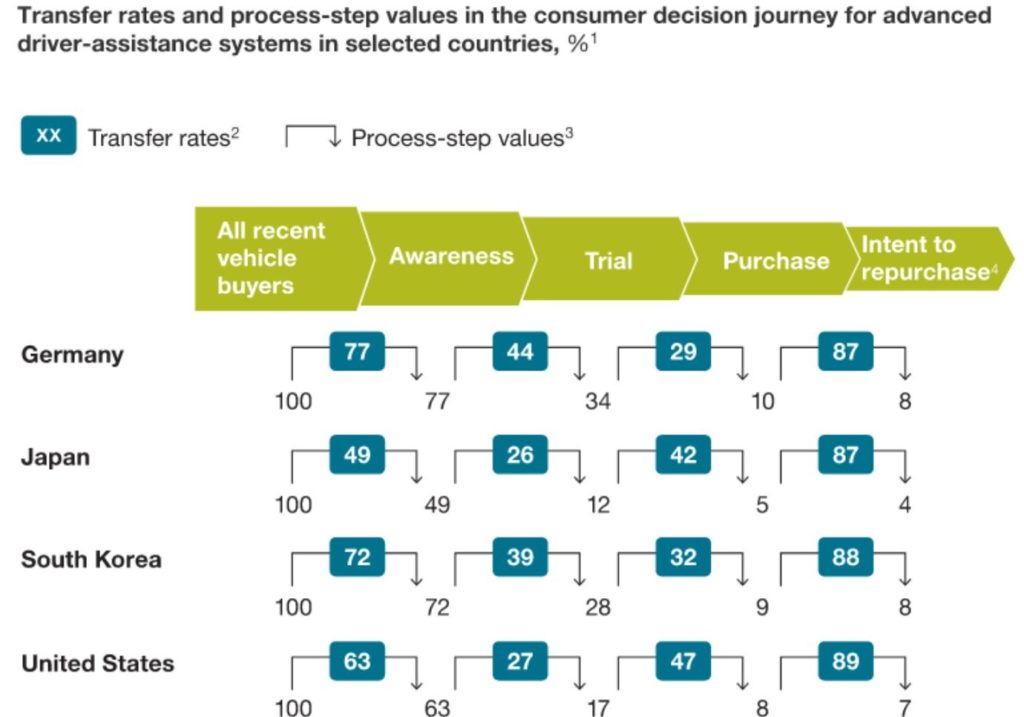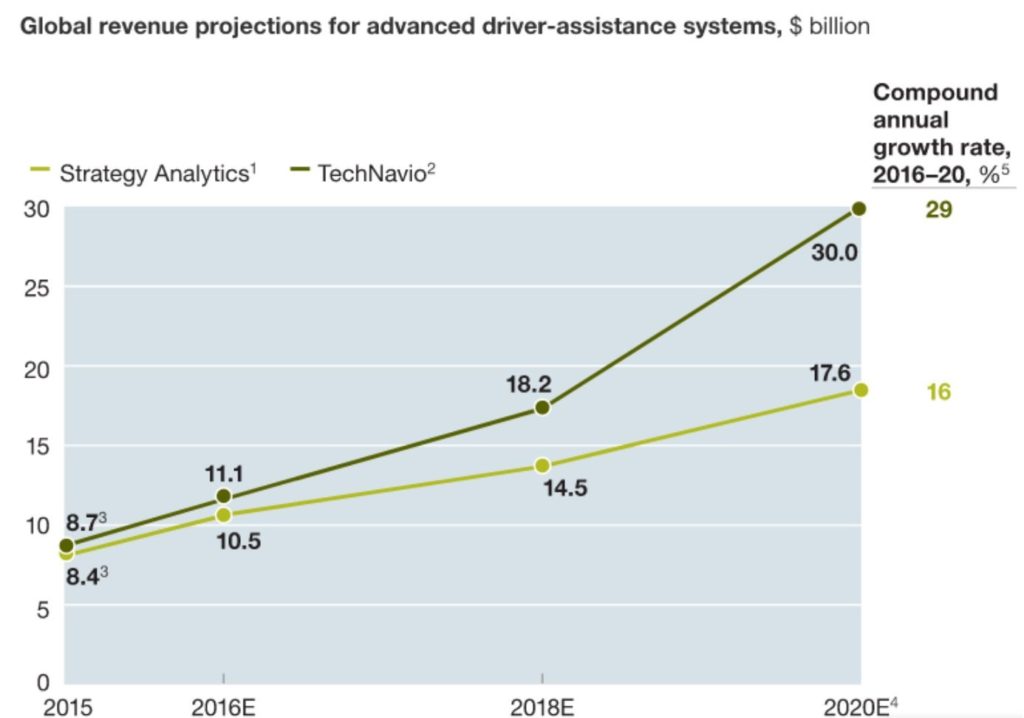 ADAS – A New Opportunity for Semiconductor Companies
Many semiconductor companies—even some that have not traditionally participated in the automotive sector—now offer ADAS products or are developing them. As with any new technology, however, much uncertainty persists about the market, including how consumers will respond to more advanced applications in which a computer controls or assists with steering and other critical driving functions. In the first part of this article, we address some of the most pressing questions about ADAS, touching on future demand, technical challenges, and the evolving competitive landscape. The second part of the article looks at ADAS from a semiconductor perspective, describing how companies can capture more value by expanding their offerings beyond hardware, collaborating directly with OEMs, and differentiating their technologies based on safety and security features.
Processors – Electronic control units (ECUs) and microcontroller units (MCUs) are essential for most ADAS applications, including autonomous driving. For ADAS to advance, processors need better performance, which could be enabled by multicore architectures and higher frequencies, as well as lower power-consumption requirements.
Sensors – These devices gather information on their immediate environment, such as pedestrians and oncoming cars. Most have a limited measurement range and signal bandwidth, which makes it difficult to distinguish between "signal" (for example, obstacles in the road) and system "noise." It is especially difficult for sensors to track moving objects during less-than-ideal environmental conditions, such as rain and fog.
Many industry players are trying to improve individual sensors. They are also attempting to optimize system performance through better sensor fusion—the coherent combination of data from multiple sensors. On the hardware side, intersensor communication is a major challenge because it requires high bandwidth and solutions for preventing network overloads.