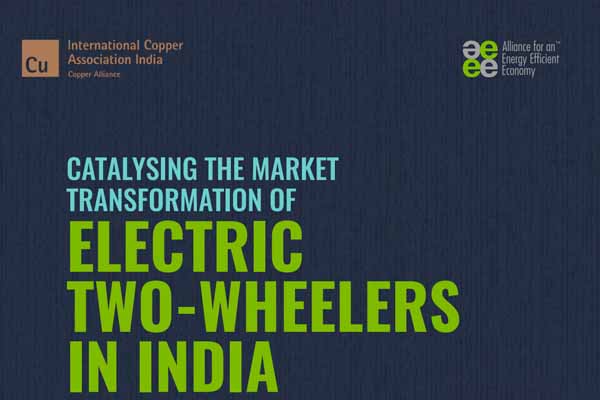 New Delhi- Alliance for an Energy-Efficient Economy (AEEE) in partnership with International Copper Association India (ICA), published a report titled "Catalysing the Market Transformation of Electric Two-Wheelers in India". The report was launched by Shri Sudhendu Sinha, Adviser, NITI Aayog along with Vinod Kumar Yadav, Dy. Commissioner, Delhi Transport department, Poonam Pande, Deputy Head International, CESL and Ajay Sharma, Secretary General, SMEV. The inaugural session was followed by two panel discussions on "Market transformation of electric two-wheelers" and "Safety issues related to electric two-wheelers".  The panels constituted representatives from Shakti Foundation, CESL, ICCT, World Bank, BSES Yamuna, JMK Research & Analytics, Revolt Motors, Vision Mechatronics, BIS, Cygni Energy and IESA.
The report, based on a consumer survey, amongst electric vehicle (EV) and internal combustion engine (ICE) owners, shows that majority of people acknowledge shifting towards an electric two-wheeler, for cleaner environmental and cost-saving factors. It also provides recommendations to address the barriers to electric two-wheeler adoption in India. Additionally, it reviews state EV policies, provisions and efforts to accelerate the growth of the e-mobility sector at the national level.
Key highlights of the report are as follows –
Some of the key areas of intervention are battery end-of-life management and developing a robust EV after-market ecosystem.
There is a need to improve end-user awareness. End-users must be provided with handbooks with emergency response information, and guidelines for EV use and maintenance.
Consumer awareness campaigns, provision of lower EV financing rates by the government and other such interventions can push EV adoption further.
Commenting on the launch, Dr. Satish Kumar, President and Executive Director, AEEE said, "The transport sector has the third-highest contribution to carbon emissions in India, and with the recent commitments to reduce carbon emissions by one billion tonnes and lower the carbon intensity by 45%, it is imperative that we adapt to electric mobility. It will not only enable India towards a low carbon and sustainable future but also facilitate nation to achieve the goal of using 50% of its energy needs from renewable energy sources by 2030."
Further Mr. Mayur Karmarkar, Managing Director, ICA India said, "We are working to bring in the copper industry and its partners for accelerating UN SDGs and clean energy transition. ICA is also highlighting the importance of metals in the clean energy transition. ICA India is working in collaboration with AEEE and also launching the right to charge campaign in Telangana and Kerala. We are also working with CESL in aggregating rural demand."
Two-wheelers comprised 80% of total vehicle sales between 2015 and 2021, and are the most preferred means of transportation in urban and rural areas. They are also responsible for over 50% of petrol sales in India. Thus, they have the potential to pilot India's transition to clean mobility and achieve its target of lowering the carbon intensity of the economy by 45% by 2030.
The presence of easily accessible EV charging stations and better quality of equipment can boost the market transformation of electric two-wheelers. As per the survey, consumer perceptions point towards the fact that a majority of the prospective consumers give importance to fuel economy, smart control, and high acceleration in an electric two-wheeler. Therefore, improving consumer confidence through advertisements, information on government portals, EV specific websites can help in building a perception of reliability.