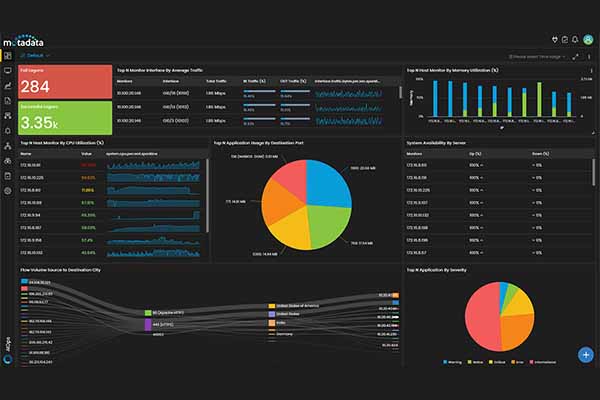 No wonder we see more enterprises using artificial intelligence (AI) every day to manage their business operations seamlessly. The enterprise AI market is currently valued at USD 796.3 million. This article will help you analyze some enterprise AI challenges and opportunities along with use cases business owners can leverage. 
If you have not yet enforced the AI and lack an artificial intelligence helpdesk system, it may lead to a collapse in helpdesk capabilities.
Since the beginning of AI in helpdesk, businesses started identifying the challenges such as help desk staff getting conquered by the number of issues showed such as improper tickets getting assigned, engineers and developers losing picture of what is essential, and critical issues are acknowledged and resolved.   
How does AI make Helpdesks more Efficient?
Artificial intelligence enables users' behavior aiming to allow computers to do functions such as problem-solving, decision-making, sensing, and decoding human speech into any language.
Considering your customer service desk, a user had to email, present a request by phone, or by opening a ticket. Further, a technician notices it, gathers any more information from the user, prioritizes it, routes it, and ultimately resolves it.
An enterprise can now drive a report and then see how well it is responding. However, it is time-consuming with many administrative processes, so it's not exactly efficient. But with AI Helpdesk, a business can automate multiple operations by redefining processes.
The Key Challenges for Modern IT Service Desks
As enterprises are evolving with technological advancements, customers and employees become more and more demanding, and they expect that your IT support services will be not only timely and effective but also fast and efficient. But unfortunately, it also increases the number and level of IT service desk challenges.
Here are the key challenges of the Modern IT Service Desk:
Handling Numerous Requests simultaneously.
The need to meet increasing employee expectations.
Keeping pace with the changing business and IT landscapes.
Higher work volumes and static budgets.
Staff recruitment and retention issues.
Time exceeds recurring issues.
Lack of modern IT support capabilities versus what's expected.
Therefore, it is important to have an AI helpdesk platform for your IT support employees that delivers them great perks and invests in their development for a proven way to keep them invariably functional and effective IT service desk.
Enterprise opportunities and benefits with AI Helpdesk
As per the IDC report, spending on digital transformation in 2023 is anticipated to rise by more than $2 trillion. While adding value to the enterprise, the AI helpdesk as a platform creates new challenges and opportunities for the IT Service Desk.
AI Helpdesk key benefits:
Business operations get faster with AI, improving task and workflow execution speed.
It helps to quicker resolution of issues and trends along with quick decision-making.
Faster than the equivalent human-based process change. 
AI helpdesk assists in reducing business operational costs by offering diminished human labor.  
peed up- improves resolution time to enhance business efficiency and enhance business efficiency.
Data anonymization and cloud introduction help apply AI to massive data sets where the organization can instead of being able to identify potential problems.
Further, AI-based analytics and the capability to do impossible years back provide a platform for additional improvement beyond simply replacing manual activities.
AI-enabled Capabilities and Use Cases for IT Support
Automation as a whole has picked up its fastest pace while implemented in IT infrastructure, giving users the much-needed assistance to fulfill their regular tasks. With cutting-edge technology and an AI-enabled help desk, users can now book tickets, resolve issues, and day to day operations seamlessly.
In addition, the customer service industry is earning much speed, especially due to the disruption of Artificial Intelligence.
There is a combination of AI-enabled capabilities already available to IT service desks, which enterprises can leverage to reduce cost and improve business efficiency, such as:
Repetitive task automation with AI.
Putting back more time to perform business critical functions with accuracy.
Smart ticket receipt with automated categorization.
Virtual agents can augment service desk analyst knowledge and capabilities in undertaking tasks.
Prioritization, routing and potentially actioning of received issues and requests based on past data patterns.
Predictive intelligence, trend identification, and decision support related to ITSM processes.
AIOps capabilities also possess the predictive label of issues to implement automated remediation for businesses. For example, highlighting the potential for major incident occurrence. With the sky being the limit, AI-assisted knowledge management is no less capable of ranging from intelligent search, through smart email autoresponders, to the automated identification and filling of knowledge base gaps.
Top 5 tips for successfully starting your AI Helpdesk
The technology industry is attached to artificial intelligence (AI) to offer better customer service, solve ticket issues, and provide data resolution ranging from high-end data science to automated customer service.
1. Manage people's expectations of the AI helpdesk.
AI is for IT support to benefit everyone, but also that AI is currently only replacing people in specific tasks, not their roles. So, this is ideally part of a larger organizational change management initiative that's helping to shepherd the new ways of working.
2. Build your AI-enabled capabilities around employee needs and expectations.
Self-service technology is a great example of how IT organizations have failed to do this in the past. Various business operations needs are to identify for employees to deliver the best work practice rather than simply implementing technology.
3. Don't wait until your organization is ready for AI.
Start learning about an AI-based help desk to understand your business needs and become familiar with what modern AI can do. Businesses should start leveraging the wealth of online information and resources to familiarize themselves with AI-enabled platforms like ITSM and helpdesk. 
4. Recognize AI, and machine-learning capabilities.
It depends on the quality of your IT service desk's knowledge management capabilities where the enterprise can execute customized features making more insightful data.
5. Look beyond the front-end use cases for AI.
Of late AI-based solutions have made things easier for organization staff and service desk executives. Modern technologies such as Machine learning and AI are getting much-needed changes to the front-end development process and helping businesses grow drastically.
Around 80% of the company acknowledges smartly investing in AI, and it was believed that by 2021, AI tools would have $2.9 trillion in business. For example, the intelligent ticket receipt capability mentioned earlier, where tickets are automatically categorized, prioritized, routed, and potentially actioned based on historical data patterns.
Conclusion
AI technology is making business functions easier for companies across the globe. For example, 84% of enterprise brands convey those modern technologies boost service agent efficiency and productivity, resulting in the holistic development of customer support operations. Whether your organization provides financial, healthcare, training, development, or other services, enterprise AI solutions are your key to success.
About the Author: 
Amit Shingala is the Co-Founder & CEO of Motadata (Mindarray Systems Pvt Ltd). He holds over 13+ years of experience in building, scaling & selling enterprise products to solve complex problems of cross-monitoring by gathering meaningful insights from a hybrid infrastructure by leveraging data ingestion from heterogeneous sources and ML capabilities.