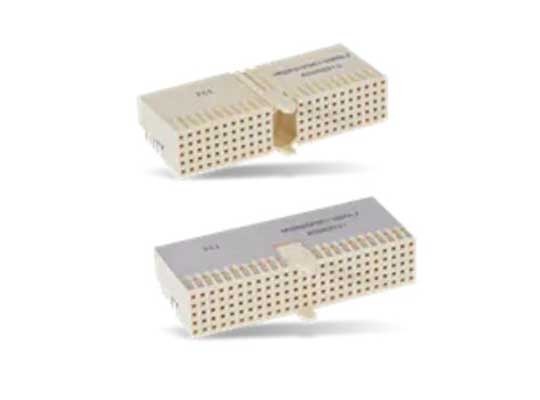 January 10, 2019 – Mouser Electronics is now stocking the Millipacs high-speed right-angle receptacles from Amphenol FCI.
Part of Amphenol FCI's Millipacs 2.0 mm wire-to-board and board-to-board interconnect system, the high-speed right-angle receptacles support data rates up to 25 Gbps. These receptacles also support mating compatibility with IEC 61076-4-101 series 2mm hard metric (HM) backplane headers. The Millipacs high-speed receptacle and standard 2 mm hard metric vertical header mating combination features low-crosstalk performance at higher frequencies.
Millipacs receptacles are offered in a 5-row version which provides up to 24 differential pairs (DP) for Type A or 30 DP for Type AB per 50 mm of standard module length. Available models include both broad-side coupling (horizontal row-wise pinning) and edge-side coupling (vertical column-wise pinning). This flexibility allows users upgrade to higher data rates while retaining existing vertical headers in backplane and the backplane system architecture. The Amphenol FCI Mllipacs high-speed receptacles are suitable for a applications within the medical, data, industrial, instrumentation, and communication fields.
For more information, visit www.mouser.com/amphenol-fci-millipacs-high-speed-receptacles.