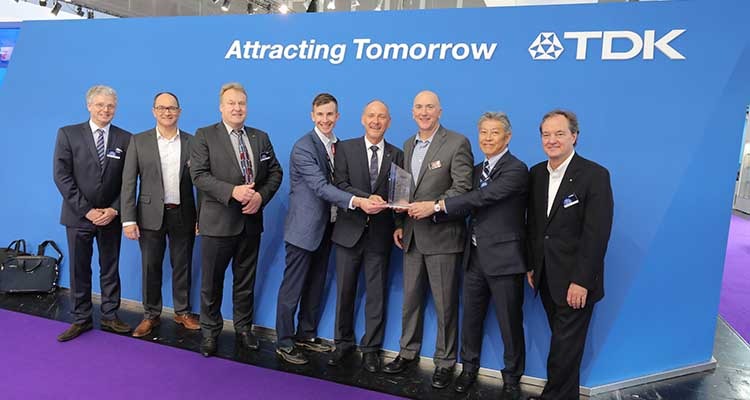 January 11, 2019 – TDK Corporation has named Digi-Key Electronics, a global electronic components distributor, the recipient of their "Best Global Performance Fiscal Year 2018" award. The award was presented to Digi-Key by TDK at their booth during electronica Munich in November.
"I am delighted to see Digi-Key's outstanding growth, which is a direct result of our excellent collaboration over the years," says Dietmar Jaeger, head of TDK Global Distribution Sales. "Digi-Key is an essential partner for TDK in providing cutting-edge technology to the market and triggering growth for both of us."
Both companies believe in enhancing the world of electronics by enabling the innovation of customers worldwide by offering superior products and services.
We are honored to receive this award because it's a great example of a partnership in which a strong team effort shows results," said David Stein, VP, Global Supplier Management at Digi-Key. "Our close relationship with the TDK team has allowed us to be on the forefront of adding new product introductions, Thus, allowing our mutual global customer base access to the latest TDK products."