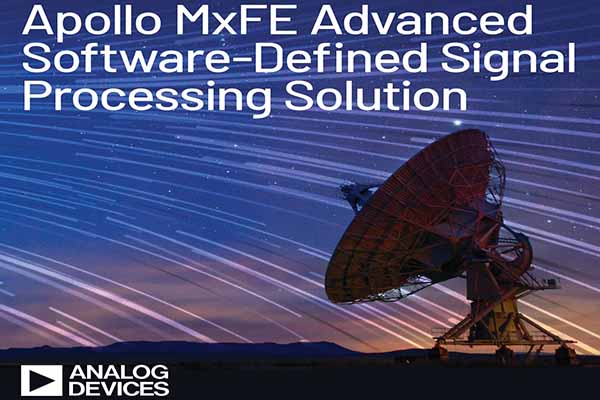 Analog Devices announced Apollo MxFE, its most advanced software-defined, direct RF-sampling, wideband mixed signal front end platform. Apollo MxFE enables next-generation applications such as phased array radar, electronic surveillance, test and measurement, and 6G communications in the Aerospace & Defense, Instrumentation, and Wireless Communications industries.
The growth of data intensive applications is increasing the need for wider bandwidths and more rapid processing and analysis of data for 5G, 6G, Wi-Fi 7 & 8, radar, signal intelligence, and other applications at the network edge. As a result, customers need a solution that enables higher-speed data conversion and processing capabilities, while reducing electronic testing complexity.
Developed for application versatility and rapid customization, the Apollo MxFE offers instantaneous bandwidths as high as 10GHz while directly sampling and synthesizing frequencies up to 18GHz (Ku Band). This monolithic 16nm CMOS device utilizes state of the art high dynamic range RF Analog-to-Digital Converter (ADC) and RF Digital-to-Analog Converter (DAC) cores with the best spurious free dynamic range and noise spectral density available on the market today. As such, Apollo MxFE helps customers accelerate design cycles and bring new products to market faster and at lower cost, while future-proofing their product designs.
"The flexibility and simplicity designed into the Apollo MxFE platform have the potential to transform future engineering design for Intelligent Edge devices," said Bryan Goldstein, Vice President, Aerospace and Defense at ADI. "Demand for higher data rates with shorter latencies at lower overall system power is accelerating across industries. It gives design engineers the flexibility to design for those requirements today, as well as an ability to enhance performance over time using simple, software-defined design changes."