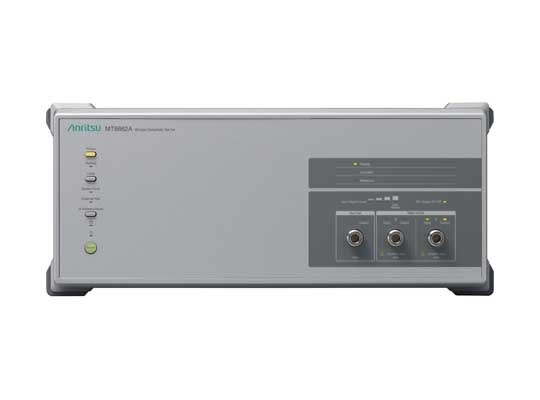 April 30, 2019 – Anritsu Corporation is pleased to announce that its Wireless Connectivity Test Set MT8862A WLAN measurement solution has world-first support for IEEE802.11ac OTA (Over the Air) Tests. IEEE802.11ac is covered newly by TIA/WFA CWG Test Plan Version 2.1 released in April 2019.
CTIA/WFA CWG Test Plan Version 2.1 is a typical test specification and procedure for evaluating WLAN performance using OTA measurements; the standard test procedure is not only used in N. America but is also referenced by other regional test bodies and is expected to become the de facto standard for the increasingly popular IEEE802.11ac specification.
CTIA/WFA CWG Test Plan Version 2.1 stipulates the performance evaluation at various data rates over the air (OTA) (or on OTA environment). However, usually, it is very difficult that IEEE802.11ac equipment under test (EUT) outputs the specified/ fixed throughput stably for performance evaluations.
With a patent-pending unique technology for controlling the data rate, MT8862A users can easily perform RF TRx measurements at any data rate simply by setting at the GUI. Moreover, OTA test efficiency is improved because the connection is maintained even when changing the MT8862A data rate.
Product Outline
The MT8862A is a tester for measuring RF TRx characteristics of equipment with built-in WLAN IEEE802.11a/b/g/n/ac functions (2.4 and 5-GHz bands). MT8862A supports network mode to communicate with the EUT using standard WLAN protocol messaging (WLAN signaling) for performing TRx measurements.
Key Features
Helps Assure Communications Quality and Troubleshoot Faults
Since WLAN equipment can be evaluated using the network mode as a near-to-live environment, the risk of poor product quality and claims at end-user use is reduced. In addition, faulty equipment can be isolated easily when troubleshooting communications faults.
Simplifies Measurement
The MT8862A performs measurement simply by connecting the WLAN equipment. No specialist operations such as EUT control settings are required, cutting measurement system setup time and cost as well as supporting measurement by inexperienced operators.