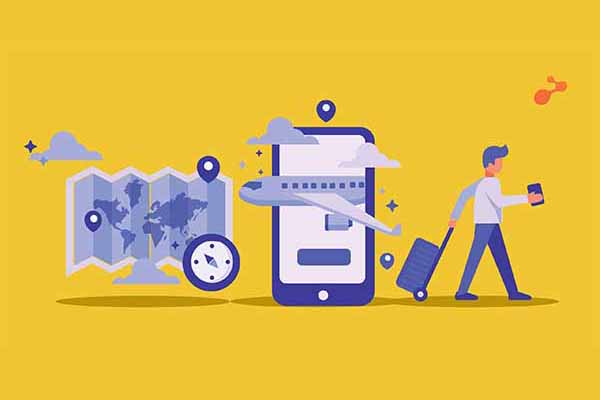 We are entering into a more technology-driven era. Even the smallest tasks such as going shopping for groceries are simplified with technology. We can now simply place orders for what we want from the comfort of our homes. However, a greater impact has been felt on the travel sector. Technology, more specifically Artificial Intelligence, has had a great effect and even greater potential for improving and simplifying travel quality. Even business travel has been influenced by this, with employee travel experience being enhanced and corporate travel being simplified.
Artificial intelligence can also be used to cover for manpower when it is not available in travel agencies or public transport providers. Additionally, it eliminates any errors that would happen from human agents.
Advanced AI Algorithms have streamlined and simplified travel bookings. It has enhanced hotel stays, and made navigating uncharted territory easier, while saving on costs. AI based technology does the job for customers by creating personalized travel plan recommendations, which saves time and money. Various gateways or processes are automated or even removed, further speeding up any travel plans. Some cars and vehicles are even automated now, using artificial intelligence-based technology to drive themselves, such as Tesla's. Flight navigation systems are also now supplemented with artificial intelligence. They offer better and faster flight paths, helping in faster air travel, as well as helping other public transport. Eventually even buses and trains will be completely automated. Tracking tools also help in keeping track of various vehicles, so they won't be lost or stolen.
Use Cases:
Voice-based assistance is also being utilized in hospitality sectors worldwide. It allows comfort and personalization to change rooms, ask for assistance, and various other advantages to guests.
Facial identification will be utilized to link passenger details with their face. It eliminates the need for a physical ticket or documents, greatly saving time for both the service providers and passengers. The face of a passenger will act as a ticket or pass, helping in eliminating long lines and waiting times.
Smart Cities are also coming in the near future, effectively as cities with sensors. It helps a city run more efficiently while making it more accessible and friendly for tourists and outsiders to move around the city.
Travel agents will also likely be replaced by bots. It increases the number of customers that can be engaged at a time. This is generally not possible with human agents as they can only effectively engage with few clients at time, leading to long waiting/hold time for other customers looking to make bookings. There will be a greater number of AI-based Chatbots and assistants for live support at any point of the day, saving time, manpower and costs, while increasing efficiency as well.
AI prediction tools can anticipate changes in prices for travel tickets and hotel bookings and help customers get the best plans at reasonable rates, by notifying the customer about the best available deals in the market. This can also boost an online travel agency's portal if they adopt this technology.
Smart Assistance can be provided to elderly, disabled, hurt or pregnant individuals with the use of technology tailored to detect such conditions about the human body, helping in providing prompt assistance to those who need it in any place of large gatherings for public transport.
About the Author:
Dr. Shreeram Iyer is the Chairman and Group Chief Executive Officer at Prisma AI.