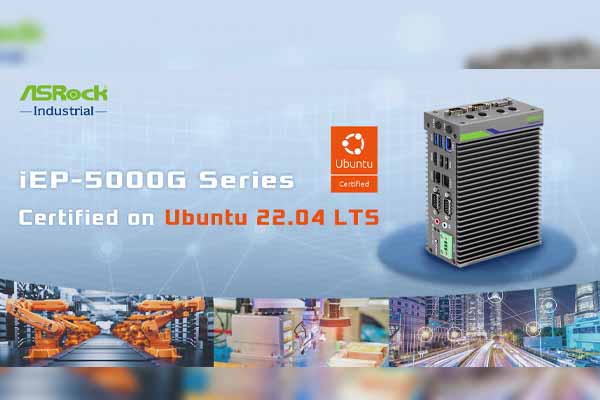 ASRock Industrial's, a leading manufacturer of Edge AIoT solutions, is excited to announce that its iEP-5000G has received certification for Ubuntu 22.04 LTS. Powered by Intel Atom x6000E Processors (Elkhart Lake), the iEP-5000G provides enhanced computing power within a compact and rugged design. The certified iEP-5000G has undergone rigorous testing at Canonical's lab to ensure seamless operation with the latest security updates. Customers can now choose to have Ubuntu 22.04 LTS pre-installed on the iEP-5000G at the time of purchase, allowing more time to focus on software development and applications. This certification ensures customers have a secure and reliable operating system optimized for the iEP-5000G, offering assurance in their edge computing deployments.
iEP-5000G – Reliable Industrial IoT Controller with Ubuntu 22.04 LTS
With the rapid growth of Edge AIoT and its increasing adoption in the open-source community, the Ubuntu operating system (OS) has emerged as one of the most widely used OS worldwide, powering applications dedicated to developing and verifying AIoT
solutions. As part of our collaboration with Canonical, ASRock Industrial is proud to announce that the iEP-5000G now is certified on Ubuntu 22.04 LTS and provides pre-installed Ubuntu 22.04 LTS to our customers for better service and flexibility. The certification process involves in-depth testing with over 500 hardware tests to ensure the best Ubuntu experience. Every aspect of the system is meticulously checked and verified, with the hardware certified and maintained for 10 years. By choosing the iEP-5000G with Ubuntu 22.04 LTS certification, customers will receive an optimized, tested, and maintained Ubuntu OS for their devices' long life. Moreover, they will have the license to use the OS for commercial distribution, which can significantly expedite the time to market their solutions.
iEP-5000G Industrial IoT Controller for Next-Gen Edge Computing
Powered by Intel Atom x6000E Processor (Elkhart Lake), the iEP-5000G features high computing power under the compact design, measuring 58 x 125 x 157 mm (W x D x H), with support for 6-36VDC wide range power inputs. It provides flexible IOs and expansions, with 4G LTE, 5G, Wi-Fi 6E, BT 5.2 RF capabilities, real-time TSN, TCC, and over-the-air (OTA) updates for seamless integration of IT and OT. Moreover, it is developed to withstand harsh environments with a rugged and fan-less design, a wide operating temperature of -40 °C to 70 °C, and high shock and vibration resistance. Furthermore, it offers various mounting options, including DIN rail and wall mount to satisfy diverse use cases. Now with Ubuntu 22.04 LTS certification, the iEP-5000G guarantees excellence in stability and safety for customers in various Edge AI applications, such as smart manufacturing, energies, smart poles, retail, transportation in smart cities, and more.
"We are thrilled to receive the certification for the iEP-5000G on Ubuntu 22.04 LTS, the extensive testing and review process represents our commitment to providing the most advanced and reliable Edge AIoT solutions to our customers," said James Lee, President of ASRock Industrial. "With this certification, we can offer our customers a seamless and secure software experience on the iEP-5000G, enabling them to focus on critical applications and accelerate their business growth."
"Our goal of providing Ubuntu Certification is to ensure developers and the Ubuntu community can have a first-class user experience with our partners such as ASRock Industrial." said Taiten Peng, IoT Field Engineer of Canonical. "In this booming AIoT market, we are excited to have iEP-5000G joining the Ubuntu ecosystem and to offer a secure software experience together. We look forward to seeing more innovative Edge AI applications brought by ASRock Industrial customers."
For further information regarding ASRock Industrial's Ubuntu-certified devices, visit our website at www.asrockind.com.