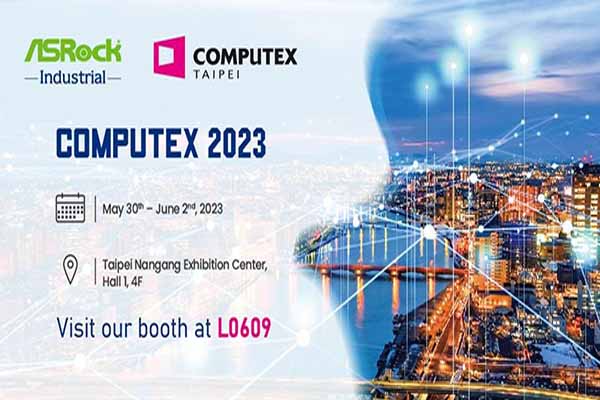 ASRock Industrial has announced its showcased product line-up for the upcoming COMPUTEX 2023, one of the world's most influential computer and technology trade show with global companies and professionals. ASRock Industrial has been carefully crafting its innovative and reliable AIoT solutions across diverse operations in smart retail, factory automation, robot, entertainment, and security. Highlights of this year's showcase include the latest Robust Edge AIoT Platform, advanced Industrial IoT Controller, Mini PCs and motherboards powered by 13th Gen Intel CPU and AMD Ryzen 7000 APU. ASRock Industrial invites you to join our booth (no. L0609) at COMPUTEX 2023, taking place from May 30th to June 2nd, at the Taipei Nangang Exhibition Center – Hall 1, 4F.
In this year's COMPUTEX, visitors will be able to see exhibition of ASRock Industrial's latest line of cutting-edge Robust Edge AIoT Platform, including live demonstration of real-time industrial controls enabled by iEP-5000G and cpc robot with Intel Edge Controls for industrial. There will be showcase of iEPF-9020S-EY4/iEP-9020E Series, leveraging the 13th Gen Intel Core Processors (Raptor Lake-S) to play an essential role as AI Edge Computer. Featured products also encompass industrial IoT Controller- the iEP-7020E Series enabled by 13th Gen Intel Core Processors (Raptor Lake-P), and iEP-5000G/iEP-5010G to work as Edge Controller and IoT Gateway for seamless edge-to-cloud connection. You can expect to see iEP-6010E Series with NVIDIA Jetson Orin NX/ Jetson Orin Nano SOM with higher speed and energy efficiency in edge AI applications.
Finally, the broadly favored Mini PCs with 13th Gen Intel CPU- slim type NUCS 1300/D4 BOX Series, NUC 1300/D5 BOX Series, iBOX 1300/D5 Series, and Intel Alder Lake-N Mini PCs- NUC N97 BOX Series, iBOX-N97. Plus AMD Ryzen 7000 Mini PCs- 4X4 BOX 7000/D5 Series are not to be forgotten. Additionally, there will be a new range of industrial motherboards with 13th Gen Intel CPU, Intel Alder Lake-N Processors, and the latest AMD Ryzen 7000 APU, a diverse and innovative set of product development.
"It is our utmost pleasure to return to COMPUTEX 2023 with new upgrades and product-line," said James Lee, President of ASRock Industrial. "We aim to offer customers the most advanced and dependable solutions to meet the evolving needs of the industrial market. We are eagerly anticipating the opportunity to exhibit our commitment to innovation and excellence and their applications at a global scale."
ASRock Industrial invites all attendees to visit our booth (no. L0609) at Hall 1, 4F, from May 30th to June 2nd at COMPUTEX 2023 to experience the latest products and solutions firsthand and cocreate an intelligent world in the evolving space of Edge AIoT. To learn more about ASRock Industrial's products, visit our Website or contact us at Product Inquiry.