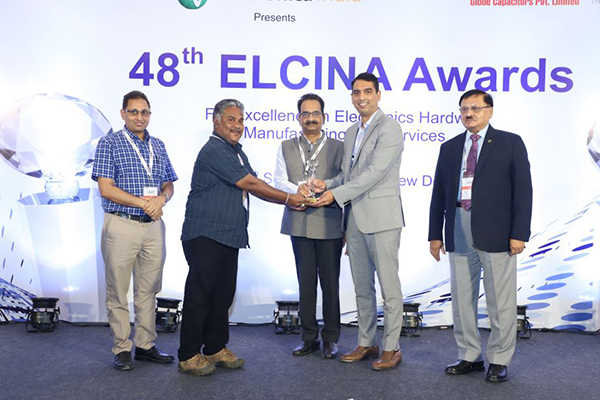 AT&S India, a wholly owned subsidiary of Euro 1.8 Billion AT&S  AG, Austria, and country's most advance electronic solutions provider for Artificial Intelligence,  Internet of Things, Machine Learning, Automated Driving and Miniaturisation based  applications, has won coveted 48th ELCINA national awards under 4 different categories. AT&S  India has received twin first prizes for its environment protection & sustainable development  practises and excellence in manufacturing of high-end printed circuit boards. This is followed by  two more national awards for AT&S India operations in Nanjangud for quality and exports  separately from ELCINA. 
The AT&S India factory in Nanjangud has a dedicated modern waste water Recycling Plant and  Multiple Effect Evaporator for fully treating the industrial effluent on-site and recycling them back  again for production, utilities and gardening purposes on the 40 plus acre campus. AT&S India  operations are fully compliant to the European Union mandate under Restriction of Hazardous  Substances in Electrical and Electronic Equipment (RoHS), and the Registration, Evaluation,  Authorisation and Restriction of Chemicals (REACH), along with the E-Waste (Management)  Rules of Ministry of Environment, Forest & Climate Change, Government of India. ELCINA has  awarded first prize to AT&S India for its comprehensive practices on environment protection  and sustainable development.  
AT&S India also received the ELCINA first prize for excellence in PCB manufacturing. This award is conferred in recognition of overall excellence in PCB manufacturing along with efforts to increase manufacturing output, investments in technological upgradation and increase in production capacity in India. AT&S was adjudged as the award winner for the year 2022-23 under the category of large companies by an accomplished panel of eminent experts from both industry and government.
Additionally, AT&S India received two separate national awards for quality and exports from ELCINA. These ELCINA awards are highly respected in the electronics manufacturing industry in India at the national level.
A successful participant to the Production Linked Incentive Scheme (PLI) for electronic components under the Hon'ble Ministry of Electronics and Information Technology (MeitY),  AT&S India Pvt Ltd. is an Accredited Four Star Exporter. It caters to global electronic solutions  supply chain ecosystem based in US, Mexico, Germany, Austria and Asia-Pacific, from its  environment friendly and technologically advance facility at Nanjangud Industrial Area in  Mysuru district of Karnataka.
Santosh Gundapi, Senior Director – Operations, AT&S India Pvt. Ltd., received the award from Director, Ministry of Electronics and Information Technology, Government of India, at a glittering ceremony in New Delhi. He was accompanied by Charan H V, Senior Manager – NPI Technology, for excellence in PCB manufacturing and Ravi A, Head – EHS, for environment protection & sustainable development practices award. Vidya Sagar A, General Manager received the award for quality and K Manjunatha, Manager – Commercials, received the award for exports from the chief guest.
ELCINA or the Electronic Industries Association of India was established in 1967 as the first industry association supporting electronics hardware, when India's Electronics industry was still in its infancy. Since then, Electronic Industries Association of India has established itself as an interactive forum for electronics and IT manufacturers. Electronic Industries Association of India actively interacts with the government and advises it on policy and business environment issues.