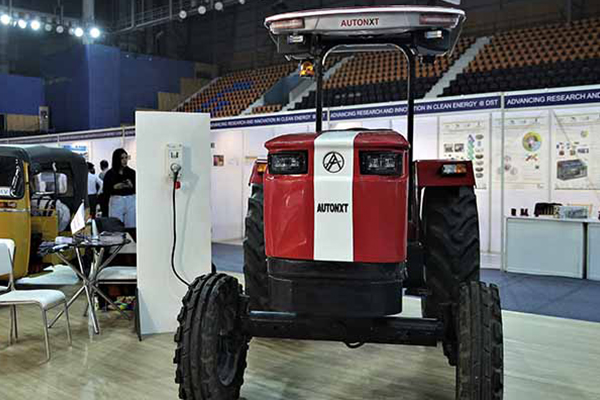 India's first electric tractor venture AutoNxt Automation proudly announces its participation in a recently held "Dangal" event held in the vibrant village of Aterna in the Sonipat district of Haryana, India. The event showcased AutoNxt's groundbreaking Electric Tractor X45H2, emphasizing both the promotion of traditional wrestling and the advancement of modern agricultural practices.
With a commitment to supporting wrestling as a sport and nurturing fitness among India's youth, AutoNxt demonstrated its unwavering dedication by offering a generous donation to the triumphant wrestler of the event. This gesture aims to inspire the young talents to not only excel in wrestling but also align with AutoNxt's mission to revolutionise farm mechanisation in India. The company's commitment to supporting wrestling and fitness shone through as they generously contributed a substantial donation to the event's winner, encouraging them to persevere in their athletic pursuits.
"We are thrilled to have been a part of the Dangal event in Aterna, Sonipat, where we could merge our passion for fitness and technology. AutoNxt is deeply committed to promoting not only sustainable farming practices but also the rich cultural heritage of traditional sports like wrestling. Our Electric Tractor X45H2, with its high torque capabilities and noiseless operation, exemplifies the potential of modern farm mechanisation. By participating in this event, we hope to inspire the next generation to embrace both traditional sports and technological innovation" saidPankaj Goyal, Co-Founder & COO of AutoNxt Automation.
The Dangal event was a resounding success, drawing participants and spectators from various regions. AutoNxt's environmentally friendly, efficient and powerful Electric Tractor X45H2 took the spotlight as it showcased its impressive capabilities while contributing to the event's smooth execution. The tractor's high torque electric motor operated the massive 8-foot Rotary cultivator seamlessly, without generating any noise. Throughout the entire day, the Electric Tractor diligently worked to loosen the soil in the wrestling arena, leaving farmers and spectators in awe of its efficiency and eco-friendly operation. Farmers and spectators alike were captivated by the Electric Tractor X45H2's performance, witnessing firsthand its ability to manage heavy-duty tasks with minimal noise and zero emissions.
"I draw inspiration from my maternal grandfather, a state-level wrestler hailing from the quaint village of Pasarni, Wai, Maharashtra. During school vacations, I used to be captivated by the awe-inspiring spectacle of this sport in my native region. While I may not be a wrestler myself, I couldn't be prouder to see the might of our electric tractor taking center stage at this remarkable Dangal event. As we inspire the young generation of wrestlers, let's also empower them with a vision of sustainable strength and innovation" said Kaustubh Dhonde, Co-Founder & CEO, AutoNxt Automation.
AutoNxt continues to stand at the forefront of sustainable farming solutions, offering cutting-edge technology and solutions that bridge the gap between tradition and innovation. With the success of its participation in the Aterna Dangal event, AutoNxt reaffirms its commitment to driving positive change in Indian agriculture while preserving the country's diverse cultural heritage.