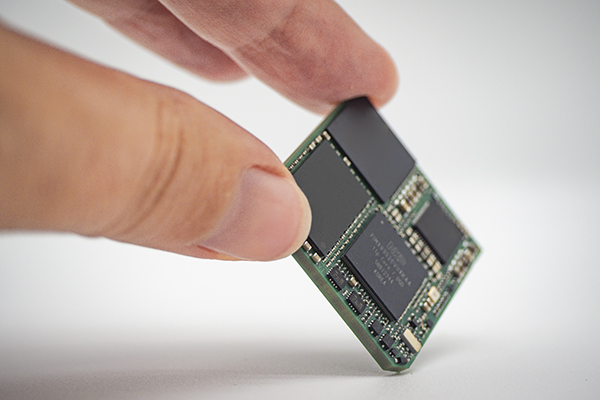 Avnet Embedded presents the compact MSC OSM-SF-IMX93 OSM computing modules compliant with the new OSM* 1.1 standard (Size-S) "Small" with dimensions of 30 x 30mm. The scalable standard module family integrates i.MX 93 applications processors from NXP* Semiconductors.
The MSC OSM-SF-IMX93 OSM modules housed in a pre-tinned LGA package can be soldered directly to the PCB and are suited for fully automated soldering, assembly and testing processing. By reducing the number of production steps and eliminating the cost of a connector, significant cost savings can be achieved compared to existing module form factors. The solder-on modules are optimized for large quantities.
The compact MSC OSM-SF-IMX93 module family is mainly used in industrial low-power applications that are cost-sensitive or need small dimensions. Typical examples include optimized IoT systems such as small gateways, industrial control systems and home automation solutions. The OSM boards are particularly rugged and resistant to shock and vibration and are specified for the extended temperature range from -40 to +85 °C.
Tim Jensen, Director of Product Innovation, Avnet Embedded, said: "The compact, scalable OSM embedded computing modules are optimized for large quantities and open numerous innovative application fields."
Avnet Embedded develops all embedded modules in its company-owned design centers. The products are manufactured in large quantities in highly automated production facilities in Germany. Avnet Embedded's first OSM products MSC OSM-MF-IMX8MINI and MSC OSM-MF-IMX8NANO are based on NXP Semiconductors' i.MX 8M Mini and i.MX 8M Nano SOCs with Arm Cortex-A53 processors.
Technical specifications:
Avnet Embedded's compact MSC OSM-SF-IMX93 OSM module family is highly scalable and equipped with i.MX 93 applications processors manufactured by NXP Semiconductors. The processors integrate single or dual Arm Cortex-A55 cores up to 1.7GHz bringing performance and energy efficiency to Linux-based edge applications. The Arm Ethos*-U65 microNPU enables developers to create capable, cost-effective and energy-efficient machine learning (ML) applications. The i.MX 93 processors deliver advanced security with integrated EdgeLock secure enclave and an efficient 2D graphics processing unit (GPU).
The MSC OSM-SF-IMX93 modules provide fast and low power LPDDR4 memory technology with inline ECC support, combined with up to 256GB eMMC Flash memory. Various interfaces for embedded applications such as Dual Gigabit Ethernet (RGMII), USB 2.0, 2x CAN-FD, MIPI-DSI and MIPI CSI-2 (2-lane) for connecting a camera are available. The typical design power ranges from 2 to 4W.
For evaluation and design-in of the new MSC OSM-SF-IMX93 modules, Avnet Embedded provides a development platform, a starter kit and comprehensive design services. A Yocto based Linux Board Support Package is available (Android support on request).